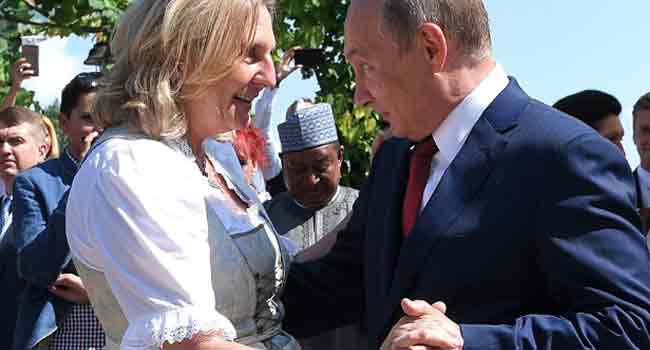 The Austrian foreign minister's deep bow to Russian President Vladimir Putin during a dance at her wedding made waves Monday, causing more furore for the already-controversial visit.
Putin was one of around 100 guests at Karin Kneissl's wedding to a businessman in southeastern Austria Saturday.
Since the private visit was announced last week, the opposition has criticised Kneissl, saying the country's reputation for political neutrality has been damaged. Austria currently holds the European Union's rotating presidency.
Adding to the fire Monday was a screen grab from a video made by the pro-Kremlin RT television network that shows Kneissl, radiant, bending her knees in a deep curtesy bow in front of Putin at the end of a dance with him.
The photo was widely published in Austrian media on Monday with headlines such as "Kneissl prostrates on her knees in front of Putin".
"How unprofessional can a foreign minister be — to produce photos that show you kneeling in front of Putin? Even if it's just a funny courtesy gesture after a dance, one knows that one should not produce such photos," left-wing essayist Robert Misik said.
Austrian Vice-Chancellor Heinz-Christian Strache of the far-right Freedom Party (FPOe), who was also a wedding guest, defended Kneissl, saying she had attended the prestigious Vienna dance school Elmayer and knew her manners as the gesture was a tradition after the dance and Putin in turn bowed.
"Dancing wedding diplomacy with politeness, friendliness and good manners, one can't represent Austria any better than this!" he wrote on his Facebook page.
Though Kneissl is independent, she was nominated for the foreign minister post by Strache's FPOe, which since 2016 has had a "cooperation pact" with Putin's United Russia party.
Thomas Schaefer-Elmayer, head of the Vienna dance school Elmayer, reportedly confirmed that the gesture was done at the end of the dance as "a deep compliment".
After briefly attending the wedding, Putin was accompanied to the airport by Chancellor Sebastian Kurz and then headed to Germany for a planned meeting with Chancellor Angela Merkel.
Even before the wedding, Austrian opposition politicians had criticised the invitation to Putin, saying it undermined the country's claim to be an "honest broker" between Europe and Russia, with the Green party calling for Kneissl's resignation.
Russia has been accused of seeking to weaken and divide the EU, notably by maintaining links with populist parties in several European countries.
AFP