LASTMA Deploys 650 Officers Over Third Mainland Bridge Closure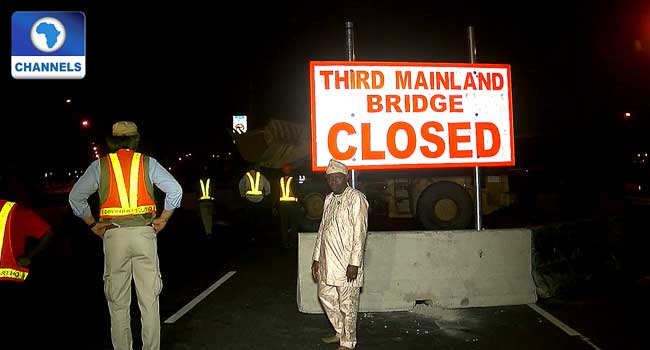 The Lagos State Traffic Management Authority (LASTMA) has deployed a total of 650 personnel to all alternative routes to the Third Mainland Bridge.
LASTMA's General Manager, Mr Olawale Musa, revealed this while addressing some traffic officers on Thursday.
"Already, we have mobilised 650 personnel with enough materials and other logistics to ensure the free flow of traffic around the period. What we want from the public is strict adherence to traffic rules," Mr Musa was quoted as saying in a statement issued by LASTMA spokesman, Mamud Hassan, on Friday.
He explained that the deployment was part of measures put in place by the state government to ensure a free flow of traffic throughout the four-day closure of the bridge for 'Investigative Maintenance Test'.
According to the LASTMA boss, the agency is aware of the volume of traffic on the bridge and the consequences of diverting such huge traffic on the alternative routes during the period.
He said, "As a professional agency with requisite personnel and experience, I want to assure Lagosians that we would do everything to make sure that motorists and commuters are not subjected to any discomfort during the exercise."
"Our traffic officers have been adequately mandated to make sacrifices, demonstrate discipline and professionalism on all the alternative routes during the period of the closure of the Third Mainland Bridge".
The LASTMA boss asked the officers on duty to show compassion to motorists, especially those that were unfamiliar with the alternative routes and other roads in the metropolis.
He also urged motorists and commuters to be patient and cooperative with the traffic officers to ensure a free flow of traffic on all alternative routes during the closure.
Musa stressed that it was important for the public to strictly adhere to traffic rules and directives to ensure a hitch-free exercise in the overall interest of all stakeholders.
He said, "Specifically, I like to plead with motorists to exercise patience on alternative routes and comply with traffic laws and directives of traffic officials."
The LASTMA GM revealed that the provost and surveillance teams of the agency have been alerted and directed to monitor individual conduct and performance of the officials on the concerned roads.
He, however, warned motorists that relevant laws would be fully enforced by the agency to forestall impunity, chaos, and disorderliness, as well as ensure the security and safety of all road users in the state.