A former deputy governor of Osun State, Senator Iyiola Omisore, believes his popularity will earn him a big success in the September 22 governorship election in the state.
The governorship candidate of the Social Democratic Party (SDP) said this during an interview on Channels Television's Sunday Politics.
"I am the most popular candidate in Osun State now," he said. "The issue is that Osun politics is Omisore and others."
"Like I said, you don't just do a bedroom analysis or beer parlour analysis; let us wait and see the result of the election," he added.
Omisore was deputy governor of Osun State between 1999 and 2003, after which he served as a senator on the platform of the Peoples Democratic Party (PDP).
He later contested the governorship election in 2014 but lost to Governor Rauf Aregbesola of the All Progressives Congress (APC).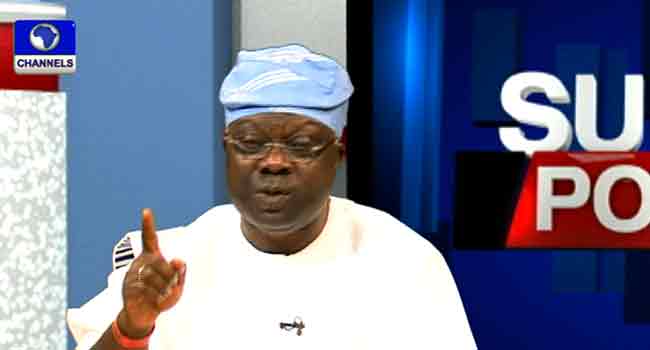 The former deputy governor who left the opposition party for SDP in May this year has been criticised by PDP members in the state for his defection.
He faulted the claims that he defected because he knew he would not get the party's ticket, saying the effect of his departure was evident on the PDP in the state.
Senator Omisore said, "Since I left the PDP, PDP in Osun State has been dead. The point is that Omisore was PDP in Osun State and the PDP was Omisore."
"The point I left was the fact that I foresaw lack of internal democracy," he claimed. "Our convention was held, party officers were chosen; the National Working Committee (NWC) now cancelled all convention decisions against the Supreme Court judgement."
Responding to those questioning his credibility to contest in the coming poll, the SDP candidate asked his critics not to be in a haste and wait for the outcomes of the election.
He also played down the claims that he was desperate to become a governor, stressing that the electorate would decide who they want to succeed Governor Aregbesola.
"The people determine their leader, the people determine who is popular, the people determine who is credible," said Omisore.
"I'm not desperate, if not I won't go to any party. The people of Osun State have an interest in Omisore, not any party."