Watch List: Fayose Slams EFCC, Vows To Remain In PDP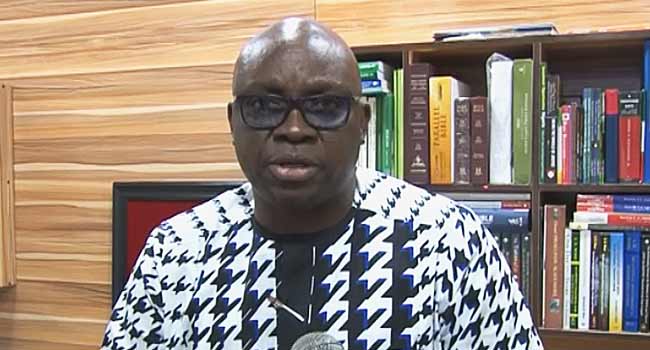 Ekiti State Governor Ayodele Fayose has accused the Economic and Financial Crimes Commission (EFCC) of putting his name on a watch list.
The governor described the move as petty especially as he had already informed the anti-graft agency of his willingness to answer any questions they might have for him when he leaves office.
Governor Fayose also denied claims that he plans to fly out of the country as soon as his tenure ends and insists that despite intimidation by the EFCC he will remain in the PDP.
In a tweet on Sunday, the governor said the anti-graft agency should expect him after he hands over power on October 16, as he earlier promised. He added that he is not afraid of being investigated.
He wrote:
@officialEFCC putting my name on watch list after notification of my coming is not only political but petty. I'm not among those who are afraid to face tomorrow. Nobody is God.
They should expect me on October 16, 2018.
I will remain in PDP not minding their intimidation.

— Peter Ayodele Fayose (@GovAyoFayose) September 16, 2018
Fayose was reacting to reports that the EFCC had written to the Nigeria Customs Service to help prevent him from leaving the country.
The governor had written to the Acting Chairman of the EFCC, Mr Ibrahim Magu, last week, promising to make himself available to the Economic and Financial Crimes Commission (EFCC).
In the letter dated September 10, he said he would report at the EFFC office after handing over to the Ekiti State Governor-elect, Dr Kayode Fayemi, who will be sworn into office on October 16.
The governor wrote in the letter, "Several and serial actions of your commission for some time now, including but not limited to freezing of my accounts and attempts to secure temporary forfeiture of my properties, are indicative of the Commission's desire to have me clarify some issues or answer some questions but for the immunity that I enjoy under Section 308 of the 1999 Constitution as sitting governor of Ekiti State.
"I wish to inform you that my term of office pursuant to which I enjoy immunity against investigation and prosecution under the above provision shall lapse by effluxion of time on Monday, October 15, 2018."
"As a responsible citizen of our great country, who believes in the rule of law, I wish to inform you of my decision to make myself available on your office on Tuesday, 16th October 2018 at 1pm to clarify issues or answer questions on issues within my knowledge.
"Kindly confirm the suitability of the above date or indicate by return, the Commission's convenient date."