INEC Declares Osun Governorship Election Inconclusive
The Independent National Electoral Commission (INEC) has declared the Osun State governorship election inconclusive.
The reason for the decision, according to the electoral body, is because the number of cancelled votes is higher than the margin between the two top candidates.
Peoples Democratic Party candidate Ademola Adeleke led the race with 254,698 votes, 353 votes more than his closest rival, Gboyega Oyetola of the All Progressives Congress.
The margin was, however, less than the 3,498 votes in the polling units where voting was cancelled.
Consequently, the Returning Officer for the election, Professor Joseph Afuape, declared the poll inconclusive.
"Unfortunately, as the Returning Officer, it is not possible to declare any party as the clear winner of this election at the first ballot,"
"The Independent National Electoral Commission will announce a date when another ballot will take place. I hereby declare the result inconclusive."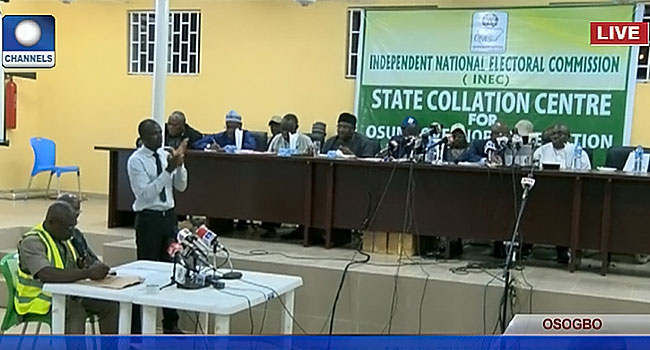 A total of 48 candidates contested in Saturday's governorship election, which is considered a crucial test for INEC as it is the last major poll before the 2019 general elections.
With the exception of the Social Democratic Party candidate Senator Iyiola Omisore, who secured 128,049 votes, no other candidate came close to the top two.
Early start
As early as 7 am on election day, residents had converged on polling units with accreditation and voting starting early.
As the day progressed, apart from concerns around vote buying, residents and observers who spoke to our correspondents hailed the atmosphere in which the poll took place. They also commended the voters, INEC and security operatives for how they played their roles.
However, after the collation of results at the INEC headquarters in Osogbo, as electoral officials reviewed the collated result, there was a bit of tension as eager voters became impatient.
The close race between Oyetola and Adeleke which became evident after the first few results were announced, heightened the anticipation.
Around 1 pm, the Director of Media and Publicity for the Adeleke campaign issued a statement, alleging that there was a plot to declare the election inconclusive. The campaign.
The campaign called on INEC "to align with Osun people".
After the results, were collated, however, Afuape stressed the importance of following the election guidelines.
"You will recall that early this morning, we presented reasons why a candidate could not be returned. According to the election guidelines, where the margin of win between two leading candidates is not in excess of the total number of registered voters of the polling units where the election was cancelled, a party's candidate may not be returned.
"From the analysis of the result that we have, the difference between the two leading parties is just 353. And the number of voters in units where elections were cancelled is 3,498," Afuape said before declaring the election inconclusive.
Meanwhile, here is how some of the major parties fared at the poll:
---
BOLUWADURO LGA:
ADC – 69
ADP – 858
APC – 3,843
PDP – 3,779
SDP – 1,766
---
ATAKUMOSA WEST LGA:
ADC – 106
ADP – 718
APC – 5,019
PDP – 5,401
SDP – 1,570
---
IFEDAYO LGA:
ADC – 52
ADP – 176
APC – 3,182
PDP – 3,374
SDP – 1,377
---
Ede South LGA:
ADC: 83
ADP: 357
APC: 4,512
PDP: 16,693
SDP: 855
---
---
OROLU LGA:
ADC – 79
ADP – 388
APC – 5,442
PDP – 7,776
SDP – 2,043
---
OBOKUN LGA:
ADC – 106
ADP – 663
APC – 7,229
PDP – 10,859
SDP – 1,907
---
ILESA EAST LGA:
ADC – 188
ADP – 1,275
APC – 9,790
PDP – 8,244
SDP – 3,720
---
BORIPE LGA:
ADC – 137
ADP – 1,137
APC – 11,655
PDP – 6,892
SDP – 2,730
---
ILESA WEST LGA:
ADC – 127
ADP – 2,363
APC – 7,251
PDP – 8,286
SDP – 2,408
---
ORIADE LGA:
ADC – 109
ADP – 1,224
APC – 9,778
PDP – 10,109
SDP – 2,265
---
IREPODUN LGA:
ADC – 158
ADP – 2,564
APC – 6,517
PDP – 8,058
SDP – 4,856
---
ILA LGA:
ADC – 96
ADP – 183
APC – 8,403
PDP – 8,241
SDP – 3,134
---
ISOKAN LGA:
ADC – 56
ADP – 682
APC – 7,297
PDP – 9,084
SDP – 3,460
---
AIYEDADE LGA:
ADC – 145
ADP – 1,654
APC – 10,861
PDP – 9,836
SDP – 2,767
---
ATAKUMOSA EAST LGA:
ADC – 60
ADP – 629
APC – 7,073
PDP – 5,218
SDP – 2,140
---
ODO OTIN LGA:
ADC – 1,034
ADP – 1,112
APC – 9,996
PDP – 9,879
SDP – 2,441
---
EDE NORTH LGA:
ADC – 89
ADP – 758
APC – 7,025
PDP – 18,745
SDP – 1,380
---
IFELODUN LGA:
ADC – 236
ADP – 2,844
APC – 9,882
PDP – 12,269
SDP – 1,920
---
AIYEDIRE LGA:
ADC – 144
ADP – 1,642
APC – 5,474
PDP – 5,133
SDP – 2,396
---
IFE NORTH LGA:
ADC – 94
ADP – 745
APC – 6,527
PDP – 5,486
SDP – 5,158
---
EJIGBO LGA:
ADC – 258
ADP – 592
APC – 14,779
PDP – 11,116
SDP – 4,803
---
---
EGBEDORE LGA:
ADC – 119
ADP – 650
APC – 7,354
PDP – 7,231
SDP – 3,367
---
IFE CENTRAL LGA:
ADC – 194
ADP – 1,053
APC – 6,957
PDP – 3,200
SDP – 20,494
---
IREWOLE LGA:
ADC – 249
ADP – 1,950
APC – 10,049
PDP – 13,848
SDP – 1,142
---
OLORUNDA LGA:
ADC – 335
ADP – 1,409
APC – 16,254
PDP – 9,850
SDP – 7,061
---
OLA OLUWA LGA:
ADC – 1,408
ADP – 2,194
APC – 5,025
PDP – 4,026
SDP – 2,104
---
IFE South LGA:
ADC – 136
ADP – 561
APC – 7,223
PDP – 4,872
SDP – 6,151
---
IFE EAST LGA:
ADC – 237
ADP – 509
APC – 8,925
PDP – 6,608
SDP – 17,643
---
IWO LGA:
ADC – 1,164
ADP – 16,425
APC – 7,644
PDP – 6,122
SDP – 4,153
---
OSOGBO LGA:
ADC – 413
ADP – 2,478
APC – 23,379
PDP – 14,499
SDP – 10,188
---