Again, Leah Sharibu's Mother Begs FG To Rescue Her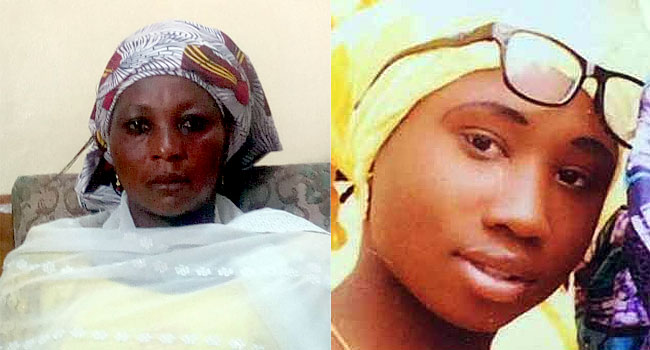 The mother of Leah Sharibu, the remaining Dapchi schoolgirl in captivity, has once again appealed to the Federal Government to meet the demands of her abductors and secure her release.
Rebecca Sharibu made the appeal during a news conference in Jos on Saturday, seven months after Leah was abducted.
In an emotional interaction with journalists, Leah's mother who spoke in Hausa, said the appeal was urgent as Boko Haram had threatened to kill Leah if the group's demands are not met.
"She pleaded with the President, the Vice President, the Secretary to the Federal Government to, please, do whatever they can to ensure that Leah is released," Dr Gloria Samdi, an activist said after the heartbroken mother spoke.
Leah's father, Nathan Sharibu, also called in and appealed to the government to act urgently as time is running out for his daughter.
He rejected having any connection with any court case against the Federal Government seeking compensation over the abduction of Leah.
The Convener, Citizens Monitoring Group, Reverend Gideon Para Mallam, called on the Federal Government to listen to the plea by Leah's parents and take concrete steps to free her.
Leah Sharibu was one of the over 100 schoolgirls abducted from the Government Girls Secondary School in Dapchi, Adamawa State, on February 19, 2018.
Although the other girls have been freed, she has been held back reportedly for refusing to denounce her religion – Christianity.
There have been calls from across the world for her release.
Fresh Threat
Earlier this month, the Islamic State West Africa Province (ISWAP), a faction of Boko Haram holding Leah captive, killed Saifura Ahmed, one of the three humanitarian workers abducted in Rann, Kala Balge Local Government Area of Borno State.
Ahmed had been abducted along with two other aid workers in March.
Online news website The Cable reported that the terrorists threatened to kill Leah and the other aid workers in a month if the government does not meet their demands.
They claimed that they had contacted the government without getting a response.
The murder of the aid worker led to global outrage and was widely condemned.
In August, Leah herself had cried out to the President for help. She made the plea in an audio clip published by The Cable.
In the clip, Leah who at the time had been in captivity for six months also sought help for her family.