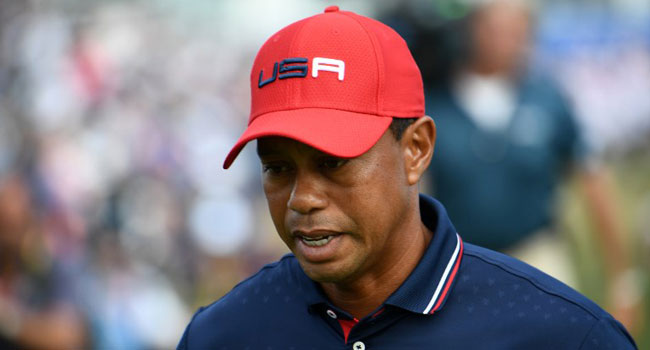 A despondent Tiger Woods admitted that he "was a contributing factor" as to why the United States surrendered the Ryder Cup to Europe, after losing all four of his matches at Le Golf National.
The 14-time major champion suffered only his second singles defeat in the match-play showdown with a 2 and 1 loss to Jon Rahm as Europe charged to victory.
His miserable Ryder Cup record now stands at 13 wins, 21 losses and three halves.
"It's disappointing because I went 0-4, and that's four points to the European team," admitted Woods.
"I'm one of the contributing factors to why we lost the Cup, and it's not a lot of fun.
"It's frustrating because we came here, I thought we were all playing pretty well, and I just didn't perform at the level that I had been playing, and just got behind early in the matches and never got back."
The former world number one headed to Paris in high spirits after capping a magnificent comeback season from injury with his first title since 2013 at the Tour Championship last week.
But it all went badly wrong, losing twice in the fourballs alongside Patrick Reed and once in the foursomes with Bryson DeChambeau — all defeats coming at the hands of Tommy Fleetwood and Francesco Molinari.
Woods said that fatigue may have played a part in his struggles, having barely played in 2016 and 2017 and having spinal fusion back surgery.
"I played seven out of nine weeks… All of those are big events, starting with the Open Championship," said the 42-year-old.
"For me, it's been a lot of golf for a short period of time.
"I'll have a better understanding of what my training needs to be for next year so that I certainly can endure the entire season because this year was very much up in the air of how much I would play or if I would play at all."
The Americans had high hopes of winning in Europe for the first time since 1993, with Woods among nine major champions in their ranks, but were blown away after winning the opening three fourball matches on Friday morning.
Woods did not play as poorly as some of his teammates — being badly let down by a misfiring Reed on the first two days — but was a shadow of the man who sealed his emotional comeback just days before.
"To have a Ryder Cup end that way, for me personally, it doesn't feel very good because I didn't help my teammates earn any points," he added.
"At the end of the day, we came here as a team and we win or lose, and unfortunately we lost this one."
AFP