President Buhari Arrives In Abuja After UNGA In New York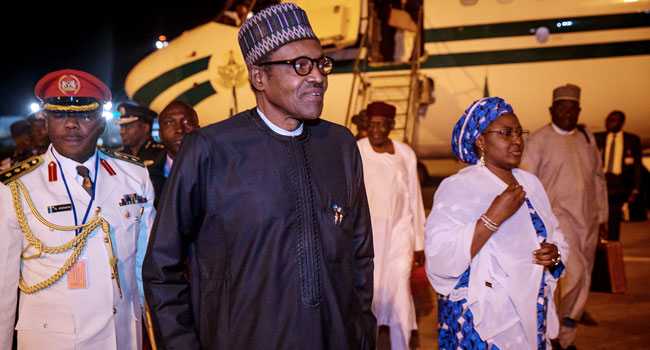 President Muhammadu Buhari has arrived in Abuja after a five-day trip to New York for the United Nations General Assembly (UNGA).
He arrived alongside his wife at the Nnamdi Azikiwe International Airport in Abuja at about 4:30 a.m. this morning.
While in New York, the President delivered what was described as Nigeria's national statement at the UNGA.
He called on the global body to step up efforts in tackling the many challenges confronting the world in modern times. He also drew the attention of world leaders to major issues threatening global peace.
He also challenged his counterparts to embrace dialogue and collaborate to address the challenges.
On the sidelines of the General Assembly, President Buhari met with the Nigerian community in the US. While addressing them, he took a swipe at the elites, saying they were silent and allowed Nigeria to be mismanaged.
"They didn't say a word," President Buhari said, adding, "I was called Baba Go Slow. Those who were going fast, where did they get to?".
He, however, hailed 'ordinary Nigerians' who he said stood by him.
See more photos of his arrival below…