What Nigerians Will Gain If I Am Elected President – Atiku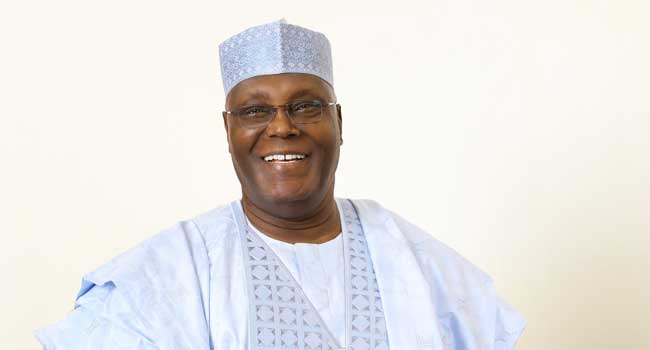 Former vice president and the presidential candidate of the Peoples Democratic Party (PDP), Atiku Abubakar, has outlined the major priorities of his administration.
In his policy document released on Monday, Atiku promised that the creation of three million jobs every year would be one of his major priorities if he is elected in 2019.
Other key points listed in the document include human capital development, poverty eradication, and infrastructure.
The document also details a seven-year timeline in which the PDP candidate intends to deliver on his campaign promises.
He also vowed that he would privatise the Nigerian National Petroleum Corporation (NNPC), as well as sell all four national refineries.
Other areas of focus of the former vice president in terms of infrastructure are the construction of 5,000 kilometres of roads, and 5,000 kilometres of modern railway.
Atiku also disclosed that included in his plans was to lift 50 million Nigerians out of poverty by the year 2025.
See the tweets below for some of the promises made by the PDP candidate;
Today, I am formally presenting myself to you as the presidential candidate of not just the @OfficialPDPNig, but of the hopes and aspirations of all Nigerians. #TheAtikuPlan

— Atiku Abubakar (@atiku) November 19, 2018
The most important question in this election is: "Are you better off than you were four years ago?  Are we richer or poorer?"  That is why our primary focus is on getting Nigeria working again. #TheAtikuPlan

— Atiku Abubakar (@atiku) November 19, 2018
Atiku Abubakar is 100% for 100% of Nigerians, 100% of the time. #TheAtikuPlan

— Atiku Abubakar (@atiku) November 19, 2018
I am not one for making grandiose promises. Rather than promises, I believe in policies. #TheAtikuPlan

— Atiku Abubakar (@atiku) November 19, 2018
As the International Monetary Fund stated very recently, it is the failure of this government to have a coherent and comprehensive set of policies combined with poor leadership that has led to its failure to deliver. #TheAtikuPlan

— Atiku Abubakar (@atiku) November 19, 2018
I am not talking about what I can do. I am talking of what I have done before. #TheAtikuPlan

— Atiku Abubakar (@atiku) November 19, 2018
Despite the fact that crude oil prices at that time were much lower than they are today, under the dynamic leadership of President Olusegun Obasanjo, we paid off Nigeria's entire foreign debt. #TheAtikuPlan

— Atiku Abubakar (@atiku) November 19, 2018
That plan worked and today I have the pleasure of unveiling our policies and strategies to take Nigeria from where she is now, to where she needs to be. #TheAtikuPlan

— Atiku Abubakar (@atiku) November 19, 2018
My plan will give Nigeria's youth a world-class education. #TheAtikuPlan

— Atiku Abubakar (@atiku) November 19, 2018
My plan will cater for the elderly, so our people are not afraid of growing old. #TheAtikuPlan

— Atiku Abubakar (@atiku) November 19, 2018
But above all, my plan will help create jobs because in my many travels across our great nation the one consistent thing I hear wherever I am is that our people need jobs. #TheAtikuPlan

— Atiku Abubakar (@atiku) November 19, 2018
If elected President, I will be pro-active in attracting investments and supporting the 50 million small and medium scale enterprises across Nigeria for the purpose of doubling the size of our Gross Domestic Product to US$900 billion by 2025. #TheAtikuPlan

— Atiku Abubakar (@atiku) November 19, 2018
My team and I will also help create jobs by innovating flagship programmes such as the National Open Apprenticeship Programme through which we shall enhance the capacity of Master-Craftsmen and women to train 1,000,000 new apprentices every year. #TheAtikuPlan

— Atiku Abubakar (@atiku) November 19, 2018
My plan to restructure Nigeria will lead to a vast increase in the Internally Generated Revenue both for the Federal Government and the states via the matching grants that we will provide to state governments that increase their own revenue. #TheAtikuPlan

— Atiku Abubakar (@atiku) November 19, 2018
Let me be clear no state will receive less funding than they get today – in fact all will receive more and the harder a state works the more they will get. #TheAtikuPlan

— Atiku Abubakar (@atiku) November 19, 2018
And I am not just presenting these policies to you, I want you to own them. Take a look at them. You can view them at https://t.co/ge4jFismXf and on the pamphlets that we are making available to the public, you will have an opportunity to provide your feedback. #TheAtikuPlan

— Atiku Abubakar (@atiku) November 19, 2018
I started out as an orphan selling firewood on the streets of Jada in Adamawa, but God, through the Nigerian state, invested in me and here I am today. If Nigeria worked for me, I owe it as my duty to make sure that Nigeria also works for you. #TheAtikuPlan

— Atiku Abubakar (@atiku) November 19, 2018
Thank you for watching and listening. May God bless you and may God bless the Federal Republic of Nigeria. #TheAtikuPlan

— Atiku Abubakar (@atiku) November 19, 2018