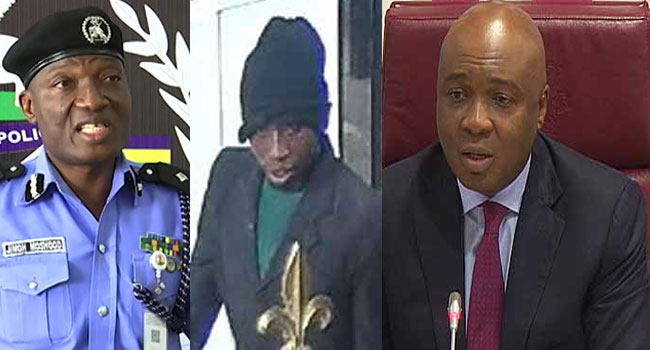 The Nigeria Police on Thursday said the death of the principal suspect in the Offa bank robbery, Michael Adikwu, cannot vindicate the Senate President, Dr. Bukola Saraki.
In a statement by the Force Public Relations Officer, Jimoh Moshood, the evidence from the five suspects now in court are enough to prosecute the Senate President.
"The Death of Michael Adikwu 'M' 30Yrs (A Dismissed Police Man and an Ex- Convict) a sectional gang leader who confessed to have killed 22 persons including pregnant women and nine Police personnel during Offa Bank Robbery cannot vindicate the Senate President, Senator Bukola Saraki, the law must take its course," the statement read in part.
The police stance on the reported death of Adikwu follows Saraki's claim that the trial was politically motivated.
Saraki had earlier on asked the Presidency to institute a judicial inquiry into the 'how and when' the suspect died.
Offa Bank Robbery: Police Confirm Death Of Principal Suspect, Adikwu
He stated further that the new disclosure by the police has vindicated his earlier claim that the suspect had been murdered in police custody and that the investigation was politically motivated to implicate him, Governor Abdul-Fatai Ahmed and a few others.
Contrary to Saraki's claim, the police insisted that the arrest of the robbery suspects "was not politically motivated as alleged by Mr. Yusuf Olaniyonu, Special Adviser (Media and Publicity) to the Senate President, Senator Bukola Saraki to the media, but purely a criminal case."
The police spokesman stated, "Michael Adikwu 'M' 30Yrs was not murdered but slumped and died in detention while an investigation into the Offa Bank Robbery was ongoing.
"It is also important for the public to know that the deceased Michael Adikwu 'M' 30Yrs was not among the Five (5) gang leaders that indicted and implicated the Senate President, Senator Bukola Saraki, therefore, his death cannot in anyway vindicate Senator Bukola Saraki.
"There is a post-mortem examination result in respect of the death of Michael Adikwu 'M' 30Yrs."
During the arraignment of the suspects before an Ilorin High Court on Wednesday, the Kwara State Commissioner of Justice and Attorney General, Kamaldeen Ajibade told Justice Halimat Salman that the Force Headquarters informed him of Adikwu's death.
The commissioner also told the court that there would be an amendment to the charges preferred against the accused.
He stated that the amendment was necessary in view of the information about Adikwu's death, and non-representation of the accused persons by a lawyer.