Osinbajo Alleges Gang-Up Against President Buhari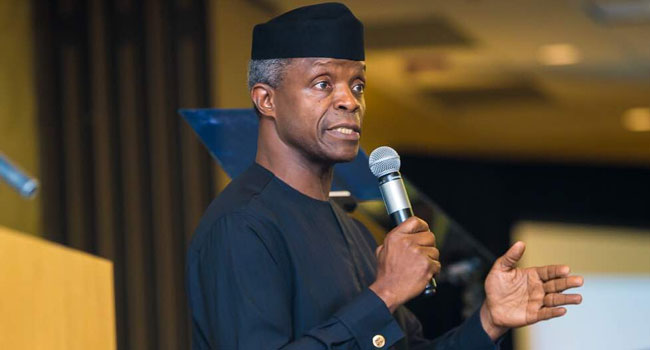 Vice President, Professor Yemi Osinbajo, has alleged that there is a gang-up against President Muhammadu Buhari by those who had prayed for him die.
He, however, maintained that not only is the president alive and well, he will also win the 2019 general elections.
Osinbajo said this on Tuesday during an All Progressives Congress (APC) national consultative forum in Abuja.
"All of them have ganged up against this one man called Muhammadu Buhari and they have their collaborators, everywhere… in business, politics, religion, everywhere.
"They prayed for him to die, the man came back, he didn't die, the man came back alive and well, stronger," he said.
Speaking further, Osinbajo said several persons have criticised the Federal Government's Empowerment Scheme, TraderMoni.
According to him, it is a very important project of the Government to enrich the poor and only those who are evil will complain about it.
He also alleged that the Senate President despite approving its commencement also criticized the project.
He said, "If you see the way they are getting very angry about Trader Moni.
"Every time they talk they just get angry but when you take care of the poor people, only those who are evil will complain because these days I hear the Senate President complaining about Trader Moni.
"It was with the approval of the Senate that we should go ahead and do this because that's a very important part of our programme.
"A very important part of our programme is that we must give credit to traders, to those who are doing small businesses.
"But that is also why there is a gang up by dis-credited elite against him.
"As you can see for yourself, there is a gang up. Anybody who doesn't see that doesn't know what is going on".
Read Also: 'It Is Real Me', Buhari Reacts To Rumour Of Being Cloned
Those who attended the forum were the national leader of the party, Bola Tinubu, the Governor of Lagos State, Akinwunmi Ambode and some members of the National Assembly.
Osinbajo's comments come days after President Buhari for the first time addressed allegations that he had been cloned.
According to the Personal Assistant to the President on New Media, Mr Bashir Ahmad, President Buhari denied the allegations, adding that he would remain strong as he has always been.
JUST IN: "A lot of people hoped that I died during my ill health. It is real me… I will soon celebrate my 76th birthday and I will still go strong." — President @MBuhari this evening in Kraków, Poland. His response to a question of him being cloned. pic.twitter.com/JL9QfUF3PL

— Bashir Ahmad (@BashirAhmaad) December 2, 2018
The President made the comments while responding to a question on the matter during a meeting with Nigerians in Poland.