INEC Presents Certificate Of Return To Newly Elected Reps Members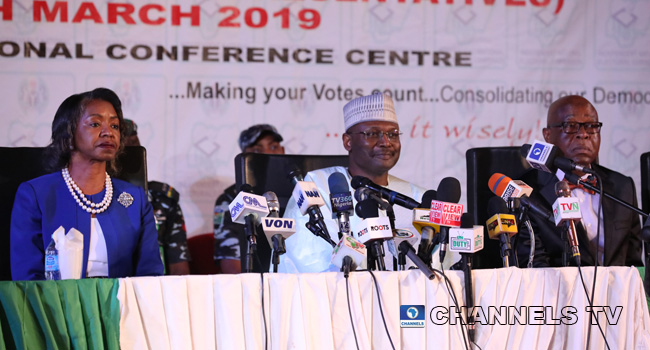 The Independent National Electoral Commission (INEC) has presented Certificates of Return to the newly elected members of the House of Representatives. 
INEC had earlier published a statement noting that the event will take place at Africa Hall of the International Conference Centre (ICC) in Abuja on Thursday.
At an earlier ceremony which kicked off at about 10am on Thursday, INEC presented Certificates Of Return to the newly elected members of the Senate.
READ ALSO: Withholding My Certificate Of Return Has The Capacity To Cause Tension – Okorocha
The ceremony for the newly elected members of the House of Representatives commenced at 2pm.
A total of 360 persons were supposed to be handed the certificate of return, however, some were not given.
Those who were left out of the presentation include candidates from districts were supplementary elections are scheduled to hold, candidates whose candidature are still subject to court rulings and those from zones where declarations were made under duress.
INEC had said that it will not issue certificates of return to elected public officers in areas where declarations were made under duress.
The electoral umpire through its Director of Voter Education, Mr Oluwole Osaze-Uzzi, stated this during an interview on The Verdict which aired on Channels Television on Friday, March 8.
According to him, a situation whereby a Returning Officer is being threatened to declare a party's candidate winner of an election under gunpoint or knifepoint amounts to illegality.
"A return is made when the Returning Officer is satisfied that the candidate has met the requirements of law. It is a voluntary act of the returning officer.
"You cannot point a gun to a returning officer's head and say sign this, he signs it and then says I have been declared (winner). That is illegality, that is not his act.
"We will only issue a certificate by law when we are satisfied that the Returning Officer of his own free will has made a declaration having satisfied himself or herself that the candidate that was returned has satisfied the requirements of the law," he said.