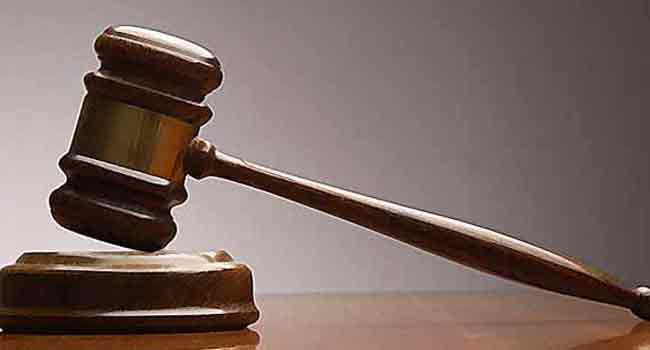 A Lagos High Court sitting in Ikeja has ordered the proprietress of Cendom International Nursery and Primary School, Olodi-Apapa, Lagos, Mrs Uche Owen, to pay N25 million as damages to a 5-year-old pupil of the school, Destiny Kalu who became blind after he was flogged for not paying school fees.
Destiny had through his father, Inyima Kalu, dragged Mrs Owen and his class teacher, Miss Uduak Sam before the court in 2013 for flogging and inflicting severe injuries to his right eyes over non-payment of school fees.
In his statement of claim, Destiny alleged that on June 20, 2011, Mrs Owen came to his classroom and flogged all the pupils that had not paid their school fees.
He stated that the proprietress further instructed their class teacher, Miss Uduak to flog them severely.
Destiny claimed that while being flogged, his right eye was covered with blood as a result of cane injury inflicted on him by the teacher.
He said the incident left him in pains and tears for several hours unattended to in the schooI premises.
Destiny further claimed that his class teacher neglected him as he bled internally and water gushed out of his right eye all through the school hours, until he was picked up at the close of school by his father after every staff of the school had abandoned him and gone home.
Destiny was subsequently taken to Ajeromi General Hospital Lagos where he was treated and later referred to Lagos University Teaching Hospital (LUTH)
At LUTH, the right eye was operated on without success. Doctor's report revealed that Destiny's right eye was permanently damaged and cannot perceive light as a result of severe internal damage.
Following the permanent injury sustained by Destiny, his father demanded N30 million as compensation from the school.
In her statement to the Nigeria Police after the incident, Miss Uduak admitted that she punished the infant by caning him on the instruction of the principal, Mrs Owen.
However, in her statement of defence, Uduak claimed that Destiny may have sustained the injury on his right eye during a fight with another pupil in the school.
The proprietress also denied being responsible for the injuries sustained by Destiny.
Delivering judgment in the matter after six years of trial, Justice Yetunde Idowu held the two defendants liable for the permenant injury.
Justice Idowu held that the defendants owe a duty of care to Destiny but breached that duty by flogging and inflicting injury on him.
She said: "Caning a child for non-payment of fees is not only wrongful but illegal. It is trite and universally accepted that caning a child does not have positive effect. Flogging is an abuse of a child and domestic violence against a child. It should be discouraged completely as it is contrary to all known best practices and unacceptable.
"The child was under the custody of the 1st Defendant, in her school premises. The 1st and 2nd Defendants, the owner of the school and the class teacher owe a duty of care to the child. The duty of care was breached when the 2nd Defendant on the instruction of the 1st Defendant engaged in flogging the child.
"Vicarious liability basically means that employers are liable for the torts of their employees, committed during the course of employment. A tort is a wrongful act or an infringement of a right (other than under contract) leading to legal liability.
"Damages in the sum of N25 million is awarded in favour of the infant suing by the next of kin."