Suspected Bandits Abandon Families As Police Raid Hideout In Jigawa Community
The Jigawa State Police Command has placed in its custody four wives and six children of some suspected bandits that specializes in kidnapping and arm robbery.
The commissioner of Police, CP Bala Zama confirmed the development in a press briefing at the police headquarters in Dutse, the state capital of Jigawa.
READ ALSO: Ex-ICPC Board Nominee Jailed Five Years For Collecting N5m Bribe
According to him, the police, on a tip-off, raided the bandits hideout and nabbed an informant.
The armed men numbering about eight of them with Guns, sticks, machetes, attacked the house of one Yahaya Haruna of Majiya, a village in Kaura LGA. The bandits tied up the victim, robbed him of money totaling about N800, 000 and took him away with them, they released him on May 20, 2019.
We continued to follow up this case, we received a lead of where these perpetrators were and we raided the place and made some arrest. During the arrest in Tukuntu village, we arrested Halisu, while his eight associates took to their heels and escaped.
During that raid, they ran away and left their families, they left four wives and some children who are here with us on protective custody, we cannot just abandon them, and we are taking care of them and providing their needs, he added.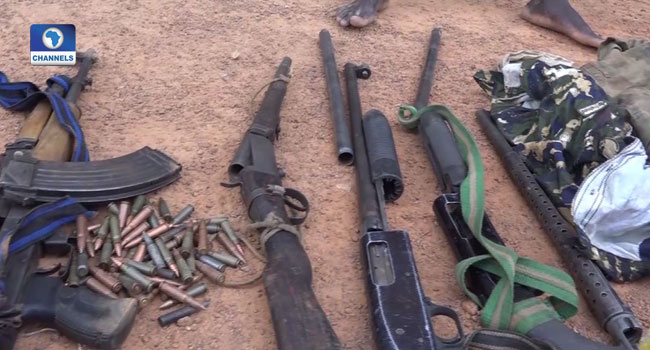 The CP also stated that the team recovered arms and ammunition from the hideout of the suspected bandits.
But a search was conducted in their camp, we found an AK-47 rifles with 68 rounds of live ammunition, one empty magazine, two pump action guns with 96 rounds of live cartridges, two locally made revolver pistols, one locally made muscle-loading berretta pistols, one locally made single barrel gun, a toy gun, five machetes, six gsm handsets, and others.
Meanwhile, the police also paraded other criminals that specialize in burglary and fraud.
The fraudsters were caught in possession of fake foreign currency worth $80,080, while the burglars were caught in possession of rappers and other materials.