NBA President Task Buhari, Governors on Security, Independence of Judiciary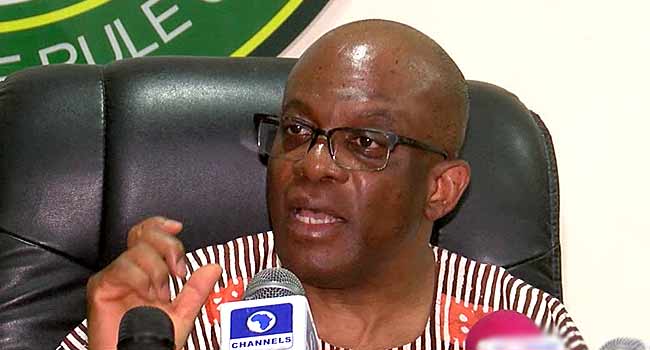 The National President of the Nigerian Bar Association, Mr Paul Usoro has called on President Muhammadu Buhari and the 36 State Governors to find lasting solution to the insecurity problem in the country.
Mr Usoro who noted that in today's Nigeria no part of the country or ethnic group is safe warned that if urgent steps are not taken Nigeria may soon become a failed state.
The president who made the call during the third National Executive Meeting (NEC) in Abuja, also appealed to leaders at all levels of government to guarantee the independence of the judiciary which he said is fundamental to the survival of democracy and the nation.
"My dear colleagues, as you would observe, I have given you three illustrative
instances of the insecurity that pervades our land from the three NBA Nigerian Zones East, West and North – and that, by itself, makes the point that no part of our country is safe.
"No region is safe, and no tribe is safe. No one indeed is safe. And yet,
we have governments in place, at the Federal, State and Local Government levels and the primary business of governments is the protection of lives and property", he said.
The NBA president argued that without security of lives and property, everything in the country will ground to a halt, adding that, "Only those who are alive can enjoy medi-care, educational facilities, infrastructure renewal, economic boom and all the other tangible and intangible benefits of a democratic society.
"We therefore demand from our governments at all levels this basic minimum of their debt to us, to wit, security of lives and property in the land", he said.
Usoro who also lamented the lack of independence of the judiciary, remarked that it is an irony that those in position of power today are the ones that would first run to the judiciary for help when they are out of power and are in trouble.
He disclosed that judges today operate under very oppressive and pervasive climate of fear and insecurity.
"There is the pervasive concern that government and its security operatives have dossiers on judges, real or imagined, and could unleash inquisitorial terror on judges if they decide issues against governments and its agencies.
"Even those of our judges who are whistle-clean – and I believe that most even if not all are – may not be willing to go through the inquisitorial processes of the various security agencies to prove their innocence. And so, we have Judges literally walking on egg-shells, notably, where governments and their agencies have interest in matters that they adjudicate upon", he said.