Presidential Election Tribunal: Mild Drama As Two Factions Appear On Behalf Of PDM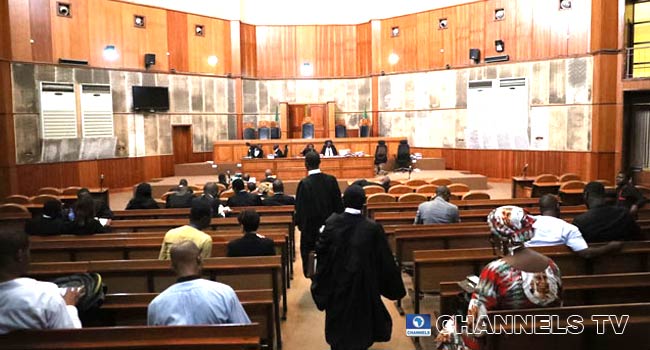 There was a mild drama on Wednesday at the presidential election petitions tribunal as two factions announced appearance on behalf of the People's Democratic Movement (PDM).
The trial commenced with the judges of the tribunal retaining petition from Hope Democratic Party (HDP) and PDM.
Two factions, however, announced appearance on behalf of PDM – the presidential candidate Aminchi Habu and the national chairman Frank Igbodike.
When Habu announced appearance on behalf of himself and the party,  Igbodike announced appearance for the party and asked that his party be withdrawn as a party in the petition.
Igbodike's application was however objected to by the counsel to Habu who has been representing PDM in the case.
Habu's counsel argued that the national chairman of the party is a meddlesome interloper who waited till the case had gotten to this level before he seeking the removal of PDM from the petition.
READ ALSO: PDP Presents Witnesses At Presidential Election Petition Tribunal
Counsel to the national chairman asked for time to reply to that objection.
The tribunal, therefore, adjourned till July 18 to hear the application and decided whether the PDM will continue as a party in this suit or not.
It will be recalled that, on June 27, this petition was adjourned for the presentation of the pre-hearing report but because of this application the presentation has not been scuttled by the filing of this motion and because of this motion, the pre-trial hearing has now been extended to the 18th of July 2019 for continuation of pre-trial session .
Both HDP and PDM are challenging the victory of President Muhammadu Buhari at the February 2019 elections.