Former captain of the Super Eagles, Nwankwo Kanu could not hold back from making a show of his joy over the victory of Nigeria in the quarterfinal game against South Africa. 
Just immediately after the referee blew the whistle, the former Arsenal and Inter Milan forward came down from the stands to show his support for the Super Eagles who defeated the Bafana Bafana by two goals to one.
In a short clip which Kanu shared on his official @papilokanu twitter page, the former Ajax striker could be seen cheering supporters at the Cairo International Stadium, with the fans chanting 'Papilo! Papilo!!'.
READ ALSO: Two More Victories And We Are There, Buhari Tells Super Eagles
Below is the now viral video in which Kanu stole the show from the Super Eagles game on Wednesday.
Incredible support from @ng_supereagles fans. Another fantastic win well done boys.The boys gave it a great teamwork effort and push. We are all proud. Nigeria officially through to the #caf2019 semifinals. We thank God.
.
.#goal #football #semifinals #Nigeria #africa #Egypt2019 pic.twitter.com/BnnBeJebTu

— Kanu Nwankwo (@papilokanu) July 10, 2019
#SuperEagles super supporter, @papilokanu 🙌#TotalAFCON2019 pic.twitter.com/WLDx5rlBU7

— CAF (@CAF_Online) July 10, 2019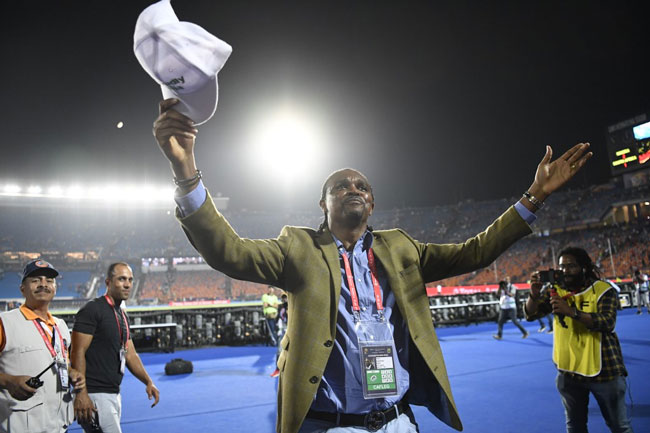 Other Nigerian fans in Cairo were not left out of the show as some took to the streets singing and dancing in jubilation. On leaving the stadium, the Super Eagles were given a warm goodbye for their heroic performance, below is what it looked like.
The #SuperEagles left Cairo Stadium to a hero's goodbye from their fans 💚#TotalAFCON2019 pic.twitter.com/pHBFidLa1a

— CAF (@CAF_Online) July 11, 2019