Police Parade 13 Suspected Kidnappers Of Daura's District Head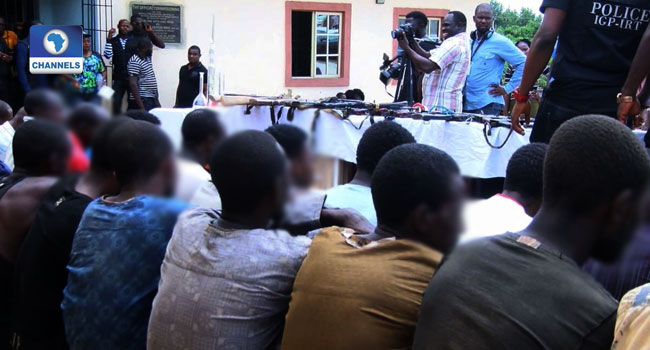 The Police have paraded 13 suspects at the IGP Special Tactical Squad Office in Abuja, in connection with the kidnapping of the district head of Daura, Alhaji Musa Umar.
Alhaji Umar was rescued by the police in Kano on July 2019, after spending 60 days in the custody of the kidnappers who had demanded a 30 million-dollar ransom for his release.
The suspects were paraded alongside 40 other suspects in connection with various crimes ranging from kidnapping to armed robbery and cattle rustling.
According to the Force Public Relations Officer, Mr Frank Mba, the detectives of the IGP special tactical squad recovered 9 AK 47 rifles, 383 rounds of live ammunition, 3 military calibre, hand grenades and chemicals used for making explosives.
"I present a total of 40 male suspects. All have been indicted for their roles in multiple crimes across the land, particularly for crimes bordering on kidnapping, armed robbery, cattle rustling, murder and attempted murder."
READ ALSO: Gunmen Abduct Samson Siasia's Mother In Bayelsa
Mr Mba landlords to be more conscious of who they rent their houses to and ensure those houses are not being used to perpetrate nefarious activities.
"We call on Nigerians to be their brother's keeper, be mindful of the people living in your neighbourhood. Be interested in knowing your next-door neighbour and what they do for a living.
"If you are a landlord, you must also take time to be sure that you know who you are renting your house to.
"We encourage owners of property across the length and breadth of this country to conduct proper vetting and background check of prospective tenants to be sure that they don't give out their property to persons who will use it as places for planning, plotting and executing crimes."