Oshiomhole And Obaseki Shake Hands, Laugh Together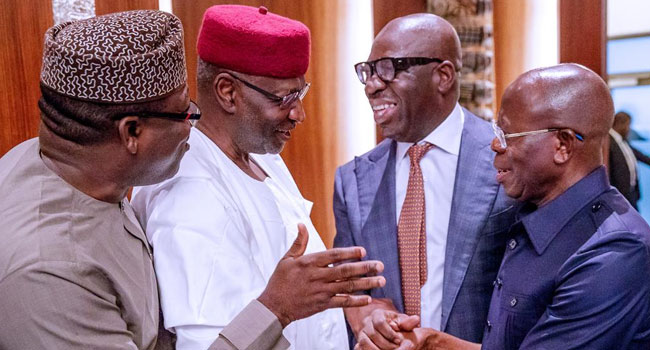 The National Chairman of the All Progressives Congress (APC), Adams Oshiomhole, and the Edo State Governor, Mr Godwin Obaseki, shook hands on Wednesday.
Both men also laughed to together as they took a picture at the Presidential Policy Dialogue which took place at the Presidential Villa in Abuja.
Before the retreat began, they were asked by some photojournalists to shake hands and pose for snapshots.
READ ALSO: Edo Won't Be 'A Pawn In Anybody's Political Chess Game' – Obaseki
The APC chairman and the governor complied and took pictures together with the Chief of Staff to the President, Abba Kyari, and Chairman of the Nigeria Governor's Forum, Kayode Fayemi.
In his reaction, Governor Fayemi told the journalists, "We are not quarrelling here"
Oshiomhole and Obaseki had been at loggerheads over the inauguration of the Edo State House of Assembly.