What's Next For Google In Nigeria?
A few weeks ago on Twitter, several people reported hearing a Nigerian accent while using Google's earth navigation tool in Lagos. It was a huge surprise – a radical departure from the usual American accent long associated with the Silicon-Valley designed product, Google Maps.
On Wednesday, at an event – Google in Nigeria – celebrating the company's presence in Africa's largest market, Google confirmed that the 'Nigerian-sounding voice' was part of its new offerings to its Nigerian users.
At the event, Google also announced several new products and initiatives, including a $4m fund for African youths and an app that teaches kids how to read.
"We are here for the long-haul," Google's Country Manager in Nigeria, Juliet Ehimuan told journalists. "We want people to get the best out of the internet."
Google wants more Nigerian online
Google is one of the most valuable brands in the world. Founded by two Stanford University Ph.D. students in 1998, the company's flagship product was Search. Today, people perform over 3.5 billion searches daily using Google.
Its other products – Gmail, Youtube, Chrome, Maps, Translator, Android – are also used every day by billions of people. Android alone runs on more than two billion devices.
For the last quarter of 2018, Google's parent company, Alphabet, announced revenues of $31.84 billion.
In Nigeria, Google is a household name, especially among young people with smartphones. For many, the company's name is synonymous with the World Wide Web.
But access to the Internet remains limited for the majority of Nigerians. In 2018, Google announced Google Station for Nigeria, a program to provide high-quality, high-speed Wi-Fi hotspots across five Nigerian cities.
Google wants more Nigerians to get online and to have a valuable experience; this has shaped the trajectory of its product innovation and initiatives for Nigeria in recent years; based on the news from this year's Google in Nigeria event, the trend is set to continue.
Supporting the local ecosystem
At the Google event, Ehimuan said Google has trained 15,000 software developers and – partnering with tech education companies, Pluralsight and Andela – have awarded 33,000 scholarships.
Through its Launchpad Accelerator Africa, an initiative to fast track the growth of African startups, Google has also trained 35 startups, which have gone on to create 385 jobs and raised $19 million.
Ehimuan then announced a $4 million fund from Google.org, Google's charitable arm. The money will be used to support youth empowerment, gender equality, and agriculture, alongside piloting new initiatives that benefit young people across Africa.
Meanwhile, Google, in partnership with the Nigerian Government, also unveiled an online safety curriculum, which will be made available to all Primary and Secondary school students in the country, reaching an estimated 56 million Nigerian students every year. "We want people to be safe online," Ehimuan said.
New products, improved services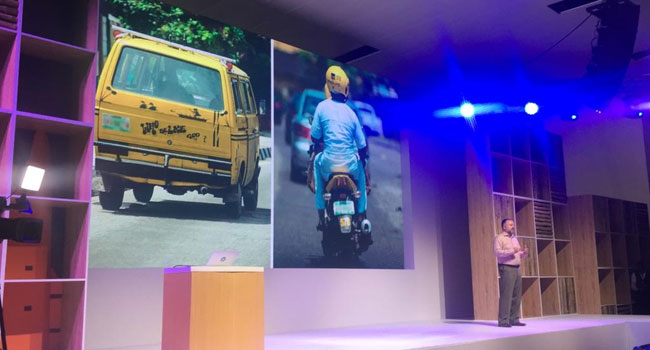 Apart from introducing a Nigerian accent in Maps, Google has also launched StreetView in Abuja, Benin City, Enugu, and Ibadan, adding almost 12 thousand kilometers of Nigerian roads.
In addition to StreetView, transit information for Danfos in Nigeria is now available on Google Maps.
Another new product launched was Gallery Go, a photo app which Google says will help users keep photos organised, look great and minimise data use. And Bolo, a speech-based reading app, will encourage kids, aged 6-11, to improve their reading capabilities.
Through Google Go, a lite version of Search, users can now use a new feature called Lens. Lens helps people read, translate and search the words they see through their camera.
Committed to making life 'Eazi'
One of Google's most popular products in Nigeria is Youtube, which has fuelled the growth of the vibrant local entertainment scene. So it was no surprise that at the Google in Nigeria event, Youtube's Global Head of Music, Lyor Cohen, sat down for a conversation with afrobeat star, Mr Eazi.
It was a robust conversation around the business of music which culminated into Cohen announcing Youtube support for 10 upcoming artistes under Mr Eazi's emPawa African initiative.
"We are incredibly proud that YouTube has been mainline for African artists to connect all over the world," Cohen said. "By supporting one of the leading African trail-blazers like Mr Eazi and his emPawa initiative, we are excited to see how these artists supercharge their careers and grow their fan base on YouTube."
Of course, more success for Nigerian – and in extension African – music on Youtube means more advertising revenue for the tech giant. Google's future is intertwined with Nigeria's.
See more photos from the event below…