IMN: The Sect Has Declared War On The State – Garba Shehu
The move by the Federal Government to proscribe the Islamic Movement in Nigeria (IMN) has continued to trigger more mixed reactions across the country.
Speaking about the issue during his appearance on Channels Television's Sunrise Daily on Monday, Mr Garba Shehu insisted that the move was in the right direction.
He likened the recent activities of the Shiite group to the declaration of war on the Nigerian State, following a series of protest which turned violent.
"Looking at the global definition of terrorism and some of the laws that prevail in many countries including the UK, … a ban of associations could be proclaimed if it is established that there is an intention to carry out terrorism.
"In this particular instance, it is not in doubt that the sect has declared war on the state," said Shehu who is the Senior Special Assistant to the President on Media and Publicity.
He added, "They (IMN members) are killing law enforcement agents, they are stopping other citizens from enjoying their own right."
READ ALSO: FG's Move To Proscribe IMN Is Absurd, Says Shiites Spokesman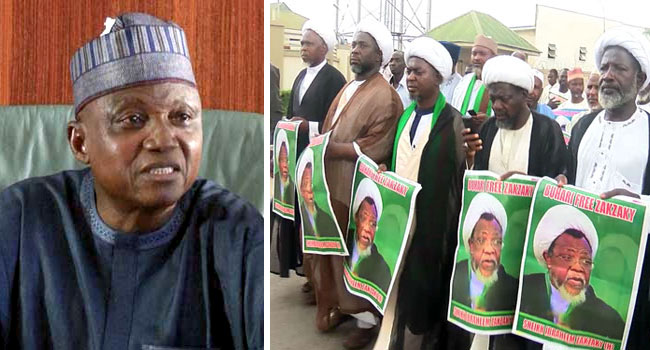 According to the presidential aide, a responsible government has to do something about the security situation of the citizenry.
He stressed that the government has a responsibility to protect the right of its people, saying the Presidency was committed to doing just that.
Shehu, however, faulted the claims that the government has failed to go through due process to obtain a proscription order against the IMN.
He said, "What do you need to do other than go to court? The Attorney General of the Ministry of Justice didn't just proclaim this thing without going to court; due process means go before a judge and ask for an order, and the order was given."
The President's spokesman decried that some people were misinterpreting the action taken by the government against the group.
He explained that the government only obtained an order to proscribe a sect and not stop people from practising the religion of their choice.
Shehu stressed that every Nigerian has a right to freedom of worship as enshrined in the nation's Constitution.
On how far-reaching the order would be, he said "In Kaduna, it (proscription) worked; these troublesome people were chased out of the state and they no longer have a foothold there.
"They moved over to Abuja and that is why we have them here; so, it (court order) will be enforced."
"What that means is that the law enforcement agencies in the country have justification to take whatever steps necessary in order to deal with their (IMN) activity if it surfaces," the presidential aide added.