Updates: Presidential Election Petitions Tribunal Continues Hearing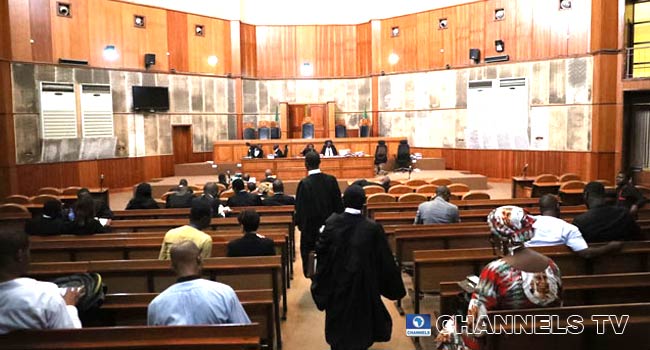 The Presidential Election Petitions Tribunal sitting in Abuja continued hearing today, August 1, 2019.
The Peoples Democratic Party (PDP) and its candidate, Atiku Abubakar, are challenging the victory of President Muhammadu Buhari in the February 23 presidential election.
Get the updates of today's proceedings below:
---
10:32 AM:  Counsel to the petitioners asked for August 21 which was adopted by others for parties to adopt their final addresses in the petition.
10:30 AM:  The respondents are asking for the parties to return on August 20 to adopt their final addresses.
---
10:25 AM:  The Chairman of the Tribunal, Justice Mohammed Garba, gives his ruling.
He grants the application for the respondents to file their final address within three days from Monday.
---
10:17 AM: Mr Uzoukwu says their application to file their reply from Monday will mean seven days instead of the three days agreed upon.
As such, he asks for seven days too from the point of service.
10:14 AM:  Counsel to the petitioners, Mr Levi Uzoukwu, says he predicts this is what the respondents will do and it has come to past.
He thanks them for not wasting the time of the court.
10:10 AM:  Mr Olanipekun asks for time to file their final address on behalf of the President from Monday.
---
10:06 AM:  Mr Fagbemi makes an application to tender some documents and asked the court to extend the time limit for filing their final addresses.
He also asks the court to allow the three days to run from Monday.
---
10:02 AM:  Counsel to the All Progressives Congress (APC), Mr Lateef Fagbemi, said ordinarily he should open his case today.
He, however, said they are satisfied with the cross-examination and other documents tendered in the case.
The APC's counsel announced that the party has chosen not to call witnesses or tender documents but to close its case too.
---
9:59 AM:  Counsel to President Buhari, Mr Wole Olanipekun, applied to close the President's defence against the petition filed by the PDP and former Vice President Atiku Abubakar.
In closing the case, Mr Olanipekun told the Tribunal that they are "very satisfied" with the evidence they have presented.
That is all for the live update, thank you for staying with us.