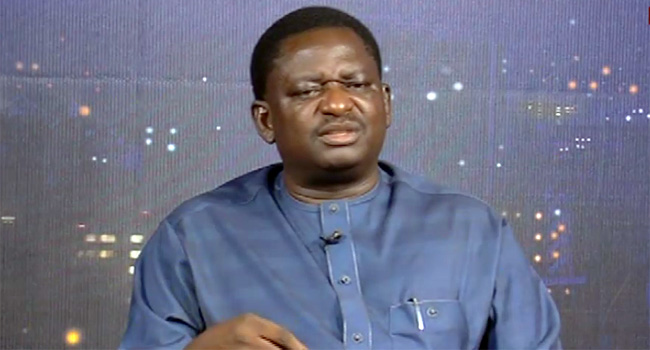 The Special Adviser to the President on Media and Publicity, Mr Femi Adesina, says Nigeria needs to be repositioned rather than being unnecessarily criticised.
Adesina, who was a guest on Channels Television's Politics Today, said President Muhammadu Buhari's administration is committed to repositioning the country.
"It's not the time for cynicism in the country. It's not the time for scepticism. If you want to be cynical or sceptical, you have a right for it but it wouldn't do you good nor will it do the country well.
"Once there are explanations, the best thing is to accept them and together move forward to reposition Nigeria. That is what matters, not unnecessary criticism for the sake of criticising," he said.
READ ALSO: 'Be Prepared To Live Laborious Days', Buhari's Full Speech At Presidential Retreat For Ministers-Designate
Adesina's comment comes shortly after President Buhari held a retreat for minister's designate, asking the incoming members of his cabinet to brace up for the tasks ahead of their inauguration on Tuesday.
Although the presidential aide admitted that the current administration is being criticised, he, however, said it isn't disturbed by the level of criticisms.
He explained that the Federal Government rather work on those seen as genuine and constructive in order to take Nigerians to improve on the nation's economy, security and in fighting corruption.
Meanwhile, the National Chairman of the Zenith Labour Party, Mr Dan Nwanyanwu, said President Buhari needs the right ministers that will tell him the truth.
Nwanyanwu who was also a guest on Politics Today advised the incoming ministers against presenting fake issues to the President at the weekly Federal Executive Council (FEC) meeting.
"Government must put the right people that must tell the President the truth. These ministers should not go to Council to garnish issues that are not real.
"You can only look at the President and say: "Mr President, I have problems here. I suggest this is the way we can do it.
"Nigeria needs people that are very serious to get people out of poverty which is the cardinal programme of the President this time around," he said.