Adesanya Knocks Out Whittaker To Become Undisputed UFC Middleweight Champion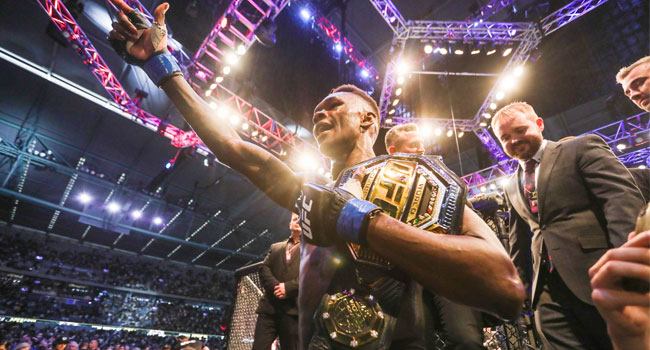 Nigeria's Israel Adesanya has become the undisputed UFC middleweight champion after dethroning Robert Whittaker in the main event of UFC 234 in Melbourne.
Adesanya arrived in the match-up as the interim champion but left no doubt as to who the best middleweight is by knocking out Whittaker with a right hook-left hook combination at 3 minutes, 33 seconds of the second round in front of almost 60,000 fans at the marvel stadium.
Adesanya dropped Whittaker right at the first-round bell and the crowd erupted at the sequence, and no one could hear the bell that ended the round but referee Marc Goddard was on top of the action and stopped it before Adesanya could follow up.
The 30-year-old Nigerian has won all seven of his fights in the UFC and is unbeaten in 18 MMA bouts with 14 coming by knockout or TKO.
Before leaving the octagon, Adesanya called out his likely next opponent, Paulo costa and both proceeded to exchange words with Adesanya referring to the Brazilian as an "overly inflated balloon animal in his post-fight interview.