FG To Service Debt With N2.45trn, Says Buhari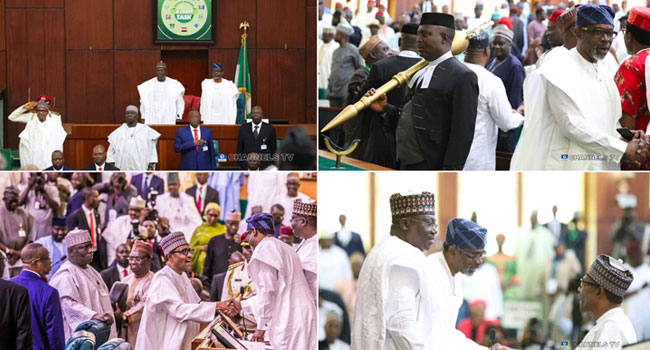 The Federal Government has said that N2.45trn will be used to service debt within the 2020 budget. 
President Muhammadu Buhari revealed this on Tuesday when he presented the 2020 budget proposal at the joint session of the National Assembly.
Buhari noted that out of the N2.45trn local debts would take about N296bn.
He stressed that Nigeria remains committed to meeting its debt service obligations.
READ ALSO: 2020 Budget Presentation In Photos
"Accordingly, we provided the sum of N2.45 trillion for debt service. Of this amount, 71 percent is to service domestic debt which accounts for about 68 percent of the total debt.
"The sum of N296 billion is provided for the Sinking Fund to retire maturing bonds issued to local contractors.
"According to the President, overhead cost will be N426.6bn," he said.
The President said he is confident that the nation's aggressive and re-energised revenue drive will maintain debt-revenue ratio at acceptable and manageable levels.
He also stated that the nation will continue to be innovative in its borrowings by using instruments such as Sukuk, Green Bonds and Diaspora Bonds.