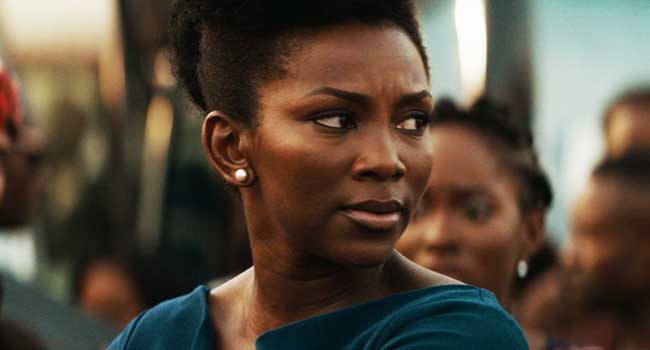 The disqualification of Genevieve Nnaji's directorial debut 'Lionheart' by the 2020 Academy of Motion Picture Arts and Sciences (Oscars) has been generating reactions from social media users across the globe.
The movie, which is Nigeria's first-ever submission for the Oscars in the Best International Feature film category, was disqualified prior to screening for Academy voters in the international category on Wednesday.
The majority of fans and celebrities have taken different standpoints on the recent development, while some were critical, some made a joke out of the issue which is the most discussed on twitter.
READ ALSO: Lionheart Represents The Way We Speak As Nigerians – Genevieve
Disqualification, An Eye Opener
While some social media users are not taking the disqualification with a pinch of salt, others are calling on Nigerian producers to pay attention to details and do greater works that will eventually go beyond the screening stage.
David Lammy and a few others questioned the chances of Nigerian films from ever making a name at the Oscars owing to English being regarded as the official language of Nigeria.
Wow @TheAcademy, disqualify Nigeria's first-ever submission for Best International Feature. Despite 500 ethnic languages, English is the official language of Nigeria. They cannot change their coloniser. Are they barred from winning an Oscar forever ? https://t.co/UPpH4oBpX0

— David Lammy (@DavidLammy) November 5, 2019
Something about this doesn't seem fair. The film was disqualified because it's mostly in English. Meanwhile, the official language of Nigeria is….English. https://t.co/oKOIQpBRRV

— Britni Danielle (@BritniDWrites) November 4, 2019
So Oscar disqualified Genevieve's LionHeart because it was filmed in English Language ?

Oya now let us submit 'Alani Pamolekun' that one has too much Yoruba language spoken in it.
🤡🤡 🤡

— Biyi The Plug 🔌 (@BiyiThePlug) November 5, 2019
Now that LionHeart has been disqualified from the Oscars, because English was spoken predominantly in the movie

Can we get a movie on Queen Aminat of Zaria or the Yoruba Kiriji wars in local dialect?

This will give us a chance to showcase our history and possibly win this time.

— Isaac®™ (@TheBullofJohn_) November 5, 2019
Lionheart has been disqualified from the Oscars awards. Reason being that the movie had too much English. Are they passing a message to Africa/Nigeria? pic.twitter.com/0il36xMkGQ

— Obinna Nwosu (@obi_Nwosu) November 5, 2019
LionHeart's disqualification from the Oscars is a very disgraceful one. And the reason they gave is a shallow one. "A Nigerian movie shouldn't have so much English in it" but our official language in Nigeria is English language. What exactly does that mean?? BS!

— Mazi Olisaemeka C. ™ (@OlisaOsega) November 5, 2019
Lionheart was today disqualified from the Oscar's Best Intl Film.. because.. it is mostly in English.

Nigeria was colonised by the Brits.
English is an official language in the Country.

You really can't win with this lot.
Quite literally cannot win. https://t.co/Ie052bUXF4

— Samira Sawlani (@samirasawlani) November 5, 2019
So if Lionheart had been produced and scripted in the Igbo and Hausa language that the storyline was based on, but given English subtitles, would it have qualified for the Oscar in the category of Best International Feature Film? 🤔🤷🏾‍♂️🤷🏾‍♀️

— 👑 DaddyMo 👑 (@therealdaddymo1) November 5, 2019
And then there were 92, because Nigeria submitted a film mostly in English to the category formerly known as Best Foreign Language Film. https://t.co/ubzQfIqPqP

— Steve Pond (@stevepond) November 4, 2019
Lionheart is a very solid debut for Genevieve & was Nigeria's first ever entry to the Oscars. It showcased Nigerian culture & is quintessentially Nigerian but to deem it not culturally-specific enough because it's in English blatantly ignores our complex history of colonialism.

— 👑 DaddyMo 👑 (@therealdaddymo1) November 5, 2019
If the English Language is the Main reason Lionheart was disqualified from the Oscar, then Nigeria's chances of winning an Oscar is zero.

— DANNY WALTER 👑 (@Cutewalterr) November 5, 2019
On Lionheart.

It's okay if you say you disqualified a movie because the story line isn't good enough. Or the picture quality. Or the sound.

But why penalize because the movie is in English, the country's official language?

Common colonizer.

— Tunde Omotoye 🇳🇬 (@TundeTASH) November 5, 2019
Celebrities like Victoria Kimani, Ebuka Obi-Uchendu and Victor Asemota were quick to show solidarity and support to Genevieve Nnaji and the entire cast and crew of Lionheart.
It's so unfortunate that the academy disqualified Lionheart from an Oscar nom… it sucks to be unfairly disqualified, wrongfully placed and generally just discarded by the world that was not created by us to begin with. A very familiar feeling …

— VICTORIA KIMANI (@VICTORIA_KIMANI) November 5, 2019
Going to watch Lionheart again this evening ❤️

— Ebuka Obi-Uchendu (@Ebuka) November 5, 2019
Lionheart was a "feelgood" movie and I loved it. It was largely free from typical Nollywood "loudness" and abrasive acting deemed as dramatic. The part I loved the most was when Pete Edochie spoke Hausa. That part won me over than all UpNorth (another great one) did for the North

— Victor Asemota (@asemota) November 5, 2019
Disqualified from the Oscars doesn't change the fact that Lionheart is one of Nigeria's biggest movie yet seen.

— Richard Omo Ibo (@MeetTheRichard) November 5, 2019
You don't get to win at all time by other's measures…
As long as you are fulfilled by the very primary objectives (producing a renown movie)/ you are a winner – RegardLess.@GenevieveNnaji1 #lionheart

— Olawale @P'LeOGàBánï™️ (@chinibaba1) November 5, 2019
The Disqualification of a beautiful movie like "LionHeart " by the #Oscars team is quite saddening but an eye opener..

Ndi Igbo its time we embrace our language & start speaking & writing it even using it in movies; instead we subtitle the IGBO language movies in English . pic.twitter.com/OYuP2FWwI2

— 🤴EZE_IMO©️👑 (@AkiMarlin) November 5, 2019
To think that some Nigerians actually complained that Lionheart had too much igbo! Only for the oscars to think it has too much English??

Total BS! Honestly I don't even care for the oscars at this point! They might aswell change the name back to "Foreign language"

— Steven Chuks (@SteveChuks_) November 5, 2019
The Rule Remains
Some social media users, while lauding the feat Lionheart pulled since its submission and eventual disqualification, explained that the rules are clearly spelled out for the International Feature film category.
A Twitter user, Obed Jefferson posed a question, asking if the Nigerian Oscars Selection Committee (NOSC) who picked 'Lionheart', failed to read the criteria before nominating the movie.
But sis my point is, didn't the people that okayed Lionheart for this award not read the criterion before doing so ? pic.twitter.com/xdzB0eTlS8

— Obed Jefferson (@benfromtheBronx) November 5, 2019
"Didn't she know the rules?" was what they said when Firdaus refused to remove her hijab for her call to bar. The next year, the rule was changed and she was called to bar.

Ava's point was not that Lionheart was qualified for the category, but that the rules make no sense.

— Nerve Bender (@okemzuruoke) November 5, 2019
Nigerians were asked to stop being ignorant about the disqualification and understand the reasons why.
Dear Nigerians, stop being willfully ignorant about the disqualification of #Lionheart by the Academy for the #Oscars #Oscar;https://t.co/aMyJIk19bM

— Motolani 'priMÓ' Alake (@OneMotolani) November 5, 2019
Is it that those who submitted Lionheart as an entry to the Oscar didn't read d rules or, or they just tried to beat the system by being fraudulent?
The rule is the rule. This is not a Nigerian base award where we could bend d rules.
Take a grid. pic.twitter.com/SS6OUC3MUW

— KADUNA KING🇳🇬 (@TBoywonder) November 5, 2019
Lionheart disqualification is not ill conceived, before we cry blue murder about it.
Note, that's the rule of the category.

Two movies were previously disqualified for the same reason(having too much english in it).

Still, Genevieve did an awesome job with Lionheart.

— Ogbuefi Okafor🇳🇬 (@MistaChika) November 5, 2019
The disqualification of the film lionheart was valid.

Always educate yourself on subjects before being in your feelings and getting all sentimental .
That category is majorly non-English dislogue films!
Has nothing to do with witch-hunt.

— Andy (@andeeblayz) November 5, 2019
Although the debate about language criteria for Oscars is long overdue, LionHeart never stood any of being selected at all. It's a laudable effort, and personally I love its humanizing of northerners, but this attempt to project it as an Oscar-worthy production is overstretching.

— Gimba Kakanda (@gimbakakanda) November 5, 2019
Academy rule: Entries in the category must have 'a predominantly non-English dialogue track'

Lionheart was partially in English,they submitted it and it was disqualified.
So why are you people crying and angry for no reason?🤦

— Tega🔥 (@ehte_) November 5, 2019
Dear @TheAcademy, your criteria is valid, but so is our reality. Creating 2 categories – Best Foreign Film and Best International Film – is probably best. Filmmakers don't make films for awards. We make films for our audience. #Lionheart https://t.co/VjqspoiWi3

— Zulumoke (@zvlv_o) November 5, 2019
Since a decade ago, Oscar stopped movies in that category made predominantly in English language just like LionHeart.

An Israeli movie "The Band" was disqualified in 2007 for the same reason.

Y'all slow down on the "African discrimination" talk on this issue.

Rules are rules.

— UG (@UgwunnaEjikem) November 5, 2019