Police Arrest Traditional Ruler Accused Of Raping Boy, Family Demands Justice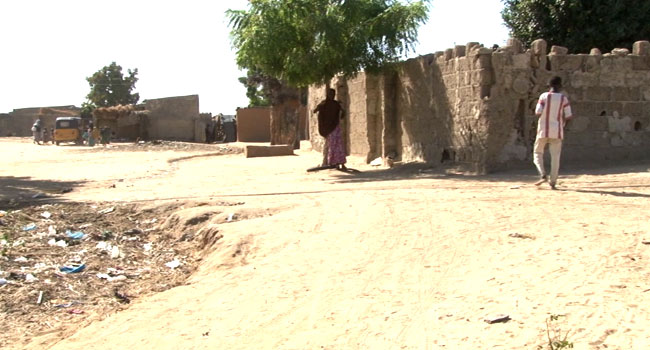 The Yobe State Police Command has arrested one Lawan Mari, a traditional ruler accused of raping a six-year-old boy in a community in Bade Local Government Area (LGA) of the state.
The Police Public Relations Officer in the state, Abdulmalik Abdulhafiez, confirmed this to Channels Television on Tuesday.
Police authorities, however, declined to grant access to the suspect for an interview.
Abdulhafiez explained that the traditional ruler has been apprehended and would be charged to court as soon as they conclude investigations into the incident.
READ ALSO: Apapa Gridlock Will Persist Without Alternatives For Trailers, Says Sanwo-Olu
Yobe State Governor, Mai Mala Buni, has indefinitely suspended Lawan Mari, the Ward Head of Fannami at Gashua town in the state.
Earlier, Channels Television reported that Yobe State Governor, Mai Mala Buni, suspended Lawan who is the Ward Head of Fannami in Gashua town indefinitely.
The governor had also directed that appropriate administrative and legal measures be taken swiftly to investigate and prosecute the case.
Condemning the act, the parents of the minor told Channels Television that they would seek justice in the court.
The victim's grandfather, Mohammed Dikau, insisted that punishment must be taken against the suspect if found guilty to serve as a deterrent to others.
He narrated, "I am a retired civil servant.  It was last week my son-in-law called to tell me a man lured and raped his son on his way to school.
"On reaching his residence, I met my grandson seriously sick and was vomiting. When the mother was bathing him, on touching his anus he started crying.
"We asked him what happened and he told us a man had anal sex with him. He later took us to the man's house and on seeing the man, he shouted 'he will kill me".
The victim is a primary one pupil of a private school in Gashua in Bade Local Government Council of the state.
Narrating how the incident happened to Channels Television, he said, "I was going to school and one baba blocked me on the way and took me to a house. He removed my school uniform and … he warned me not to tell anyone that if I do so, he would kill me."
Mari was recently trained by the European Union and the British Council in sensitising the public on how best to end gender-based violence in the state.
As a proactive measure against cases of rape and other related offenses, the Yobe State government signed the Penal Code Amendment Act into law in 2018.
The law stipulates clearly that whosoever commits rape in the state; where the victim is a minor shall be punished with life imprisonment and where the victim is an adult, shall be jailed a term of 25 years.