VIDEO: Edo Govt Asks Police, DSS To Arrest Oshiomhole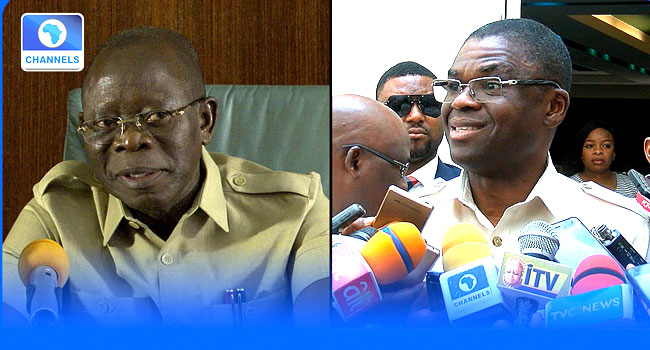 The political crisis in Edo State has taken a new twist as the government is calling for the arrest of the National Chairman of the All Progressive Congress (APC), Adams Oshiomhole.
This comes amid the continued disagreement between the state governor, Godwin Obaseki, and his predecessor, Oshiomhole.
On Monday, the state government said it has petitioned the Inspector General of Police and the Director-General of the Department of State Services (DSS), demanding the arrest of the APC national chairman.
VIDEO: I Will Show You That I Am Edo State Governor, Obaseki Warns Oshiomhole
The Deputy Governor of Edo State, Mr Philip Shuaibu, disclosed this to reporters on the sidelines of the APC Governors Forum Steering Committee meeting in Abuja.
He alleged that the APC national chairman has constantly disobeyed orders of the state government by organising illegal rallies.
Shuaibu, however, admitted that Oshiomhole remained his political father in the state.
But he claimed that the actions of the party's national chairman have continued to threaten the peace and security of the state.
The deputy governor stressed that the law was no respecter of persons.
Watch the video below: