COVID-19: Commercial Buses Must Carry Two Passengers Per Seat In Enugu – Ugwuanyi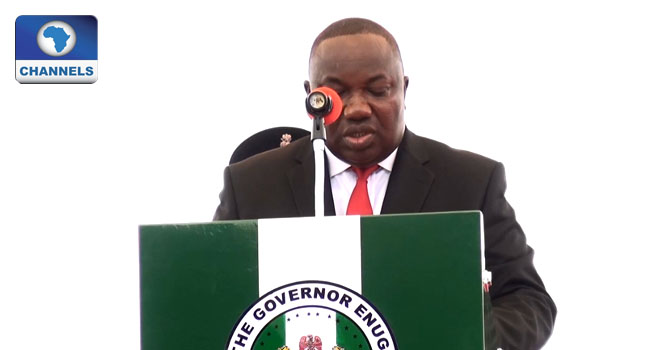 Governor Ifeanyi Ugwuanyi of Enugu State has asked all public transport operators in the state to ensure that commercial buses carry only two passengers per seat to contain the spread of coronavirus disease (COVID-19) in the state.
The governor also directed tricycle operators and city cabs not to carry more than two and three passengers respectively.
In a state broadcast to the people of the state on Tuesday, Ugwuanyi noted that the move is in line with his administration's commitment to safeguarding the health of the people of the state.
"All public transport operators in the state are to observe the following rules on passenger conveyance in each instance: Keke – not more than two passengers, Commuter Buses – not more than two passengers per seat and City Cab – not more than three passengers," he said.
While ordering the closure of all educational institutions in the state, the governor also ordered civil servants to work from their homes except those on essential duties.
Those not affected from this directive according to him include health workers, Forest Guards; Neighborhood Watch Personnel; staff of the water corporation, waste management operatives; Staff of the State Emergency Management Agency, the firefighters among others.
READ ALSO: Kano Govt Asks Workers To Stay At Home, Bans Public Transport
Speaking further, Ugwuanyi announced the suspension of all cultural and social gatherings including the following: marriage ceremonies; burial ceremonies; masquerade festivals; drinking bars; night Clubs; and all group sporting and recreational activities.
He also asked residents of the state to maintain social distancing protocol as advised by Nigerian Center for Disease Control (NCDC).
According to him, the exercise should be "observed during public religious worship as well as in restaurants and Eateries."
Meanwhile, the government has released N330million for the state's preparedness and response for any confirmed case of the virus.
Of the amount, N150million "is dedicated to purchasing of additional Ambulances and Incident vehicles; Personal Protective Equipment; upgrade of State Infectious Diseases Isolation Centre; training of Health Workers; advocacy and public enlightenment."
Governor Ugwuanyi also thanked President Muhammadu Buhari's response to the outbreak of the disease in the country.