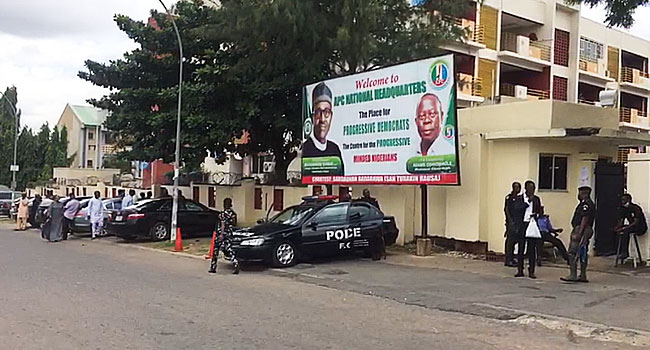 The Nigeria Police Force has sealed the national secretariat of the All Progressives Congress in Abuja on the orders of the Inspector General of Police, Mohammed Adamu.
According to information gathered by Channels Television, the seal-off was aimed at ensuring peace around the secretariat.
Members of the NWC who showed up at the party secretariat were prevented from gaining access to the party house while members of staff and journalists were allowed to walk in without their cars.
This development comes as the party's leadership has been divided over who takes over as the Acting National Chairman, following the suspension of the National Chairman, Adams Oshiomhole.
Read Also: Controversy As Giadom, Etta Lay Claim To APC Chairmanship Seat
The party's National Working Committee had affirmed former Oyo State Governor Abiola Ajimobi, as the Acting National Chairman.
However, due to Mr Ajimobi's unavoidable absence, the NWC appointed the National Vice Chairman, South-South, Hilliard Etta to act on his behalf.
Meanwhile, the APC Deputy National Secretary, Mr Victor Giadom also declared himself as the acting National Chairman, on the strength of a Federal Capital Territory High Court order obtained on March 16.
Read Also: APC Crisis: My Lawyers Will Advise Me On Next Line Of Action – Oshiomhole
Meanwhile, the embattled National Chairman, Oshiomhole, says he has accepted the verdict of the Court of Appeal which upheld his suspension.
He noted that his next line of action will be determined by his lawyers.
"We thank their lordships, they have given their judgement. In our democracy, the court is an independent arm of government.
"When they hand that judgment, it is not for you to pick whether you will obey or not. I accept their judgement in good fate.
"My lawyers will advise having studied the judgement, what the next line of action will be. So at this point, I will just thank their Lordships for their judgment and look forward to my lawyers on what should be the next line if there should be another next line of action," he said.