Nigeria's COVID-19 Infections Rise With 499 New Cases
Nigeria's COVID-19 infections have risen with 499 new cases, bringing the total number of infections in the country to 30,748.
The Nigeria Center for Disease Control (NCDC) confirmed this in a tweet on Thursday.
The new infections were identified in 22 states and the Federal Capital Territory, Abuja.
Lagos State maintained its lead position with 157 new infections, bringing the total infections in the state to 11, 827.
Other states with new infections include Edo with 59, Ondo with 56, Oyo with 31, Akwa Ibom with 22, Borno with 21, Plateau with 19, Kaduna and Katsina with 18 each, Bayelsa and the FCT with 17 each, and Delta with 14 cases.
Kano also has 11 new cases, Rivers has 10, Enugu has eight, Ogun has six, Kwara has four, Imo has three, Nasarawa and Osun have two each, while Abia, Ekiti, Niger and Yobe have one each.
The health agency however, noted that a total of 12,546 patients have recovered and been discharged, while the country's death toll stands at 689.
Read Also: There Are Nearly 150 Prospective COVID-19 Vaccines, 19 In Clinical Trials – WHO
499 new cases of #COVID19;

Lagos-157
Edo-59
Ondo-56
Oyo-31
Akwa Ibom-22
Borno-21
Plateau-19
Kaduna-18
Katsina-18
Bayelsa-17
FCT-17
Delta-14
Kano-11
Rivers-10
Enugu-8
Ogun-6
Kwara-4
Imo-3
Nasarawa-2
Osun-2
Abia-1
Ekiti-1
Niger-1
Yobe-1

30748 confirmed
12546 discharged
689 deaths pic.twitter.com/F44yWh4c4y

— NCDC (@NCDCgov) July 9, 2020
Flights Resume
In the earlier stages of the COVID-19 spread, the Federal Government had shut down schools, places of worship and other mass gatherings and also imposed a lock down on some of the most hit cities.
Subsequently, other states began to follow suit as infections continued to spread.
While schools and places of worship have largely remained closed, the government has gradually allowed the reopening of several sectors of the economy as the country could not survive a prolonged lock down.
Despite the daily increase in the number of cases, the aviation sector resumed its operations on June 8, after months of inactivity.
The Minister of Aviation, Hadi Sirika, had prior to then, announced that the sector was losing N17 billion monthly as a result of the lockdown.
Domestic flight operations in Lagos and Abuja have, however, resumed following approval by the president and with strict compliance with COVID-19 protocols.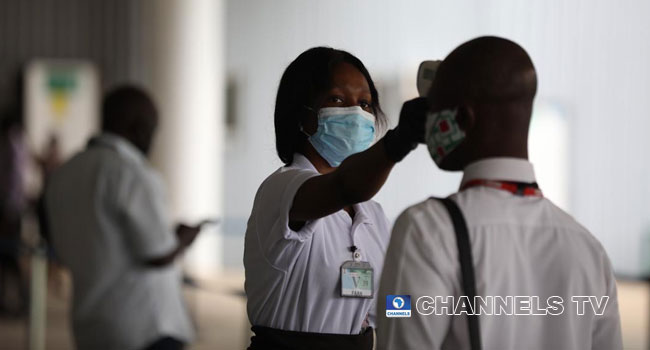 The Minister of Aviation also noted that the Kano, Port Harcourt, Owerri and Maiduguri airports would resume on the 11th, while other airports are expected to resume operations on the 15th.
However, no date has been announced for the reopening of the international airports.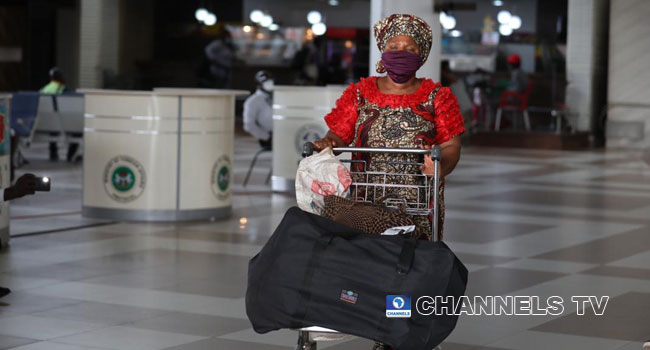 Read Also: Domestic Flight Operations Resume In Lagos And Abuja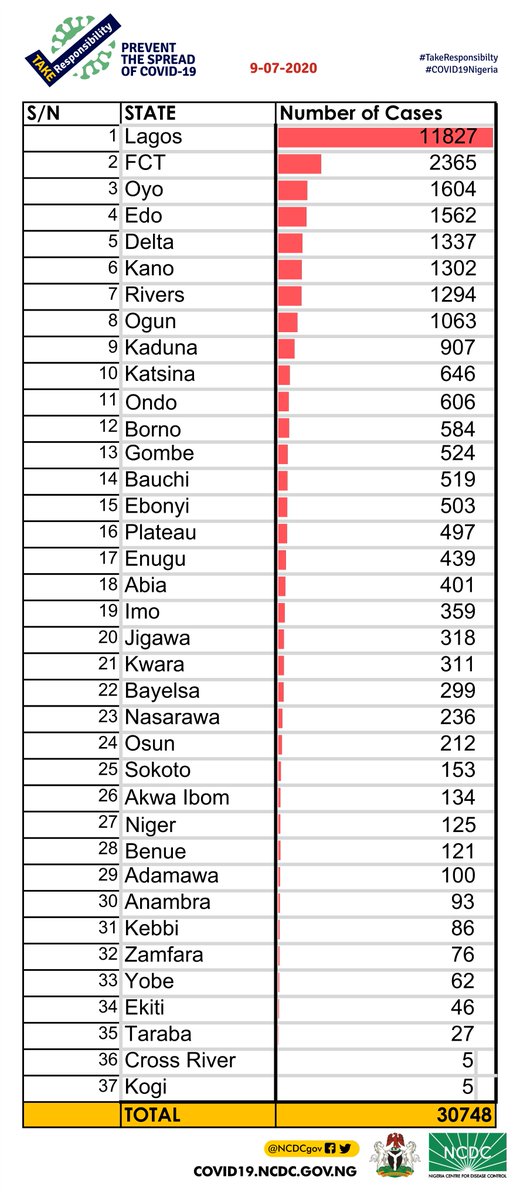 Global Toll
The novel coronavirus has killed at least 550,910 people since the outbreak emerged in China last December, according to a tally from official sources compiled by AFP at 1900 GMT on Thursday.
At least 12,123,290 cases of coronavirus have been registered in 196 countries and territories. Of these, at least 6,461,200 are now considered recovered.
The tallies, using data collected by AFP from national authorities and information from the World Health Organization (WHO), probably reflect only a fraction of the actual number of infections.
Many countries are testing only symptomatic or the most serious cases.
There have been 5,290 new deaths – 1,223 of them in Brazil and 946 in the United States — while 205,624 new cases have emerged since 1900 GMT on Wednesday.
The United States is the worst-hit country with 132,803 deaths from 3,081,383 cases. At least 953,420 people have been declared recovered.
After the US, the hardest-hit countries are Brazil with 67,964 deaths from 1,713,160 cases, United Kingdom with 44,602 deaths from 287,621 cases, Italy with 34,926 deaths from 242,363 cases, and Mexico with 32,796 deaths from 275,003 cases.
China — excluding Hong Kong and Macau — has to date declared 83,581 cases (nine new since Wednesday), including 4,634 deaths (0 new), and 78,590 recoveries.
Europe overall has 201,290 deaths from 2,786,435 cases, the United States and Canada 141,586 deaths from 3,188,126 infections, Latin America and the Caribbean 135,663 deaths from 3,113,598 cases, Asia 40,710 deaths from 1,619,036 cases, Middle East 19,260 deaths from 879,503 cases, Africa 12,266 deaths from 525,980 cases, and Oceania 135 deaths from 10,619 cases.
As a result of corrections by national authorities or late publication of data, the figures updated over the past 24 hours may not correspond exactly to the previous day's tallies.
Belgium has the highest fatality rate per 100,000 population at 84 cases ahead of the United Kingdom (66), Spain (61), Italy (58) and Sweden (54).