Proposed Sexual Harassment Bill Not Fair – Former ASUU Chairman
A former chairman of the Academic Staff Union of Universities, Dr. Laja Odukoya, says the sexual harassment bill criminalises lecturers on an issue that is prevalent in, not just tertiary institutions, but the larger society.
The sexual harassment bill, passed by the Senate on Tuesday, proposed two to 14 years for sexual harassment convictions.
Speaking on Sunrise Daily Thursday, Dr. Odukoya, a former chairman of the University of Lagos chapter of ASUU, said the operational word in the bill is "educators," which, according to him, picks the tertiary institutions as a special case and not fair for an offence that is common in the society.
The lecturer also said that while the females are vulnerable, males are equally getting sexually harassed.
"There is no doubt that girls or the womenfolk are much more vulnerable in our society,  but that is not sufficient to make laws that just look out for their interest, boys and men are equally sexually harassed in different setups in the society," he said.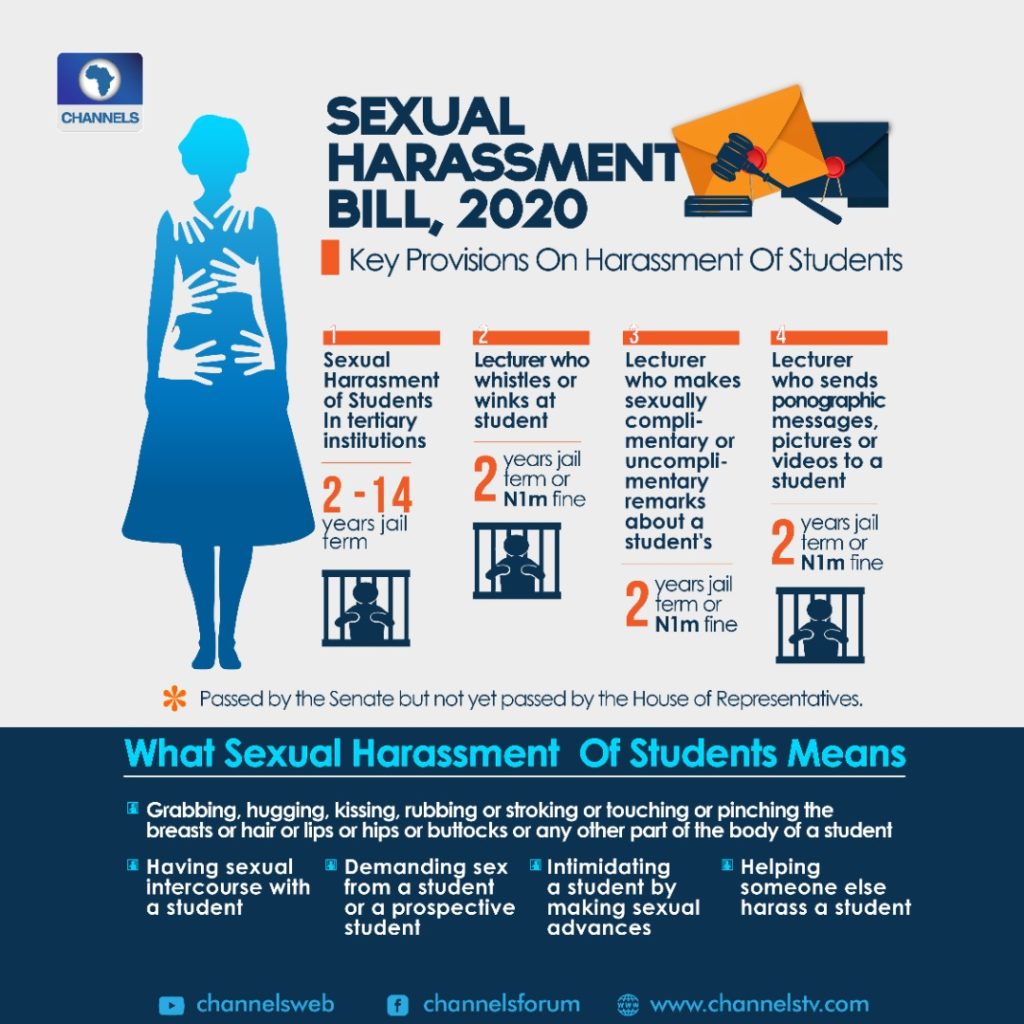 Referring to the cardinal principles of law, Dr Odukoya said they (lecturers) are against the sexual harassment bill saying, "You don't make laws that are discriminatory and tries to criminalise a particular set of people."
The lecturer criticised the bill for focusing on lecturer-student harassment, saying it ignored an equally prevalent issue in higher institutions, which is student-to-student harassment.
He noted that while the bill is focused solely on educational institutions, it also failed to protect the male folk.
"It is wrong to discriminate against higher institutions and criminalise lecturers because this is a crime that is society-wide."
The bill titled, 'A Bill for an Act to Prevent, Prohibit and Redress Sexual Harassment of Students in Tertiary Educational Institutions and for Matters Concerned Therewith, 2019', seeks to promote and protect ethical standards in tertiary institutions.
It also seeks to protect students against sexual harassment as well as prevent sexual harassment of students by educators in tertiary institutions.