'We Clothed Him': Wike Confident Obaseki Won't Defect
The Rivers State Governor, Nyesom Wike, says he is confident that the Edo State Governor, Godwin Obaseki, will not defect from the Peoples Democratic Party (PDP).
He said this on Friday on Channels TV's Sunrise Daily, while discussing the events surrounding the just-concluded Edo governorship election.
"This is a party that clothed him, this is a party that when it was raining they gave him an umbrella," Wike said.
According to him, Obaseki has assured the party severally that he would not leave. However, he noted that if events turn around and Obaseki decides to leave then there is also no problem with that.
Read Also: 'It Was Key': Wike Attributes Edo Election Success To Visa Ban On Riggers
"I don't want to discuss something that I think is not going to be possible but however, assuming it happens, so what? That is politics," the Rivers State Governor said.
"If the governor believes that PDP is no longer a party for him to actualize his vision and mission, there is nothing wrong. I just don't believe that it is going to happen because the governor has consistently told us that there is no way he will leave PDP. If he does leave PDP, he should know the consequence of that, that the people of Edo State will not be happy.
"He is somebody whom I have that trust that he will not leave the party".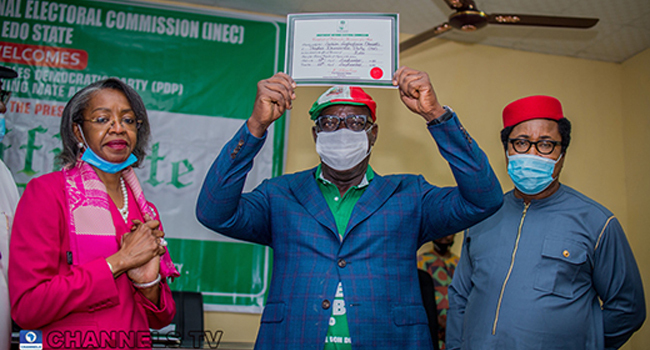 Obaseki's victory came on the back of a tense and heated electioneering process that saw him dump the APC after being disqualified from the primaries, join the PDP and overcome stiff opposition and criticism by members of his former party, including former ally and his predecessor Adams Oshiomhole.
With another four years ahead of him, the Edo State governor has reiterated his loyalty to the party.
"I couldn't have contested on a party, won on that party's platform and then consider moving to another party," he said on Friday when he visited President Muhammadu Buhari at the Presidential Villa.