The special adviser to Oyo State governor on Security Matter, Fatai Owoseni, has appealed to residents and Nigerians generally to be cautious in their speech and not beat drums of war following the tension in Igangan, Ibarapa Local Government Area of the state.
Owoseni made the appeal on Monday during an interview on Channels Television Breakfast programme, Sunrise Daily.
He said the tension may be escalated by people who are not responsible in their comments and give wrong narration, especially on social media.
"We must restore confidence in our people and not for people to make reckless comments. Both ways, people are saying Sunday Igboho has said things which ought not to have been said. And we have some people who are being paid with public funds also responding on behalf of a socio-cultural group. Is that reasonable? Is that responsible at all?
"All of us must guide what we say. If we continue to drum the beats of war – If we are talking of war, we don't know where war will start and we don't know where it will end. Some of them have not seen it before. Some of us have seen it before. If you think that when it happens you have where to run to. It may not be so," Owoseni said.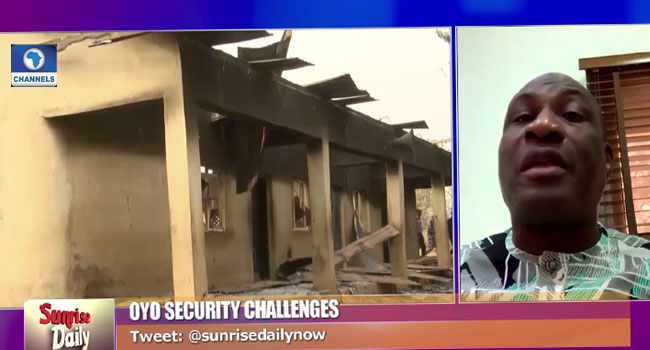 He added that people must be "responsible in their comments and not just fanning the embers of disunity."
He also spoke concerning the success of police authorities who he revealed has made some arrests following reports of kidnapping in Igangan noting that ransoms were also recovered.
"I will start with the case of kidnapping that led to the death of that young man who went with a friend to the farm.
"People were arrested. They also confessed that this person working for this person asked us to do this. The Chairman of one of the LCDA was kidnapped, people were arrested. In some of the cases, part of the ransom was also recovered," Owoseni who is also a former commissioner of police in Lagos State explained.
– Igangan Violence –
Residents of Igangan in the Ibarapa area of Oyo State have cried out following the increased rate of security challenges in their community. They claimed the attacks were carried out by herdsmen in the community.
Violence however broke out on Friday after an activist, Sunday Adeyemo, popularly as Sunday Igboho held a public air meeting in the community. This sparked violence as angry residents stormed the Fulani settlement in the ancient town to eject Seriki Fulani and herdsmen accused of perpetrating various crimes including kidnappings, rape, and invasion of farmlands with their cattle.
During the crisis, the Seriki Fulani of Igangan and his family members were evicted from the town, and their property set on fire.
– Authorities Sue For Peace –
In response to the violence, the Oyo State Government and police authorities on Sunday sued for peace calling all stakeholders to embrace dialogue and desist from the wanton destruction of lives and livelihood.
Governor Seyi Makinde who was represented by a delegation led by his Special Adviser on Security, Fatai Owoseni, appealed to all to find a way to return communal tolerance and understanding to fight off attacks from bandits and kidnappers.
The Commissioner of Police, Ngozi Onadeko in her address at Igangan, Tede and Ago Are communities, said the constant fight within neighborhoods which has led to the destruction of public and private property must stop.