Zulum Shares N150m Grants To Traders, Food For 27,000 Vulnerable Persons
Governor Babagana Umara Zulum over the weekend was in the Gwoza Local Government Area of Borno State for humanitarian and developmental activities, which began on Friday, February 5. 
After passing the night in the town, Zulum on Saturday shared N150million as soft loans and grants to small and medium-scale traders.
From the funds, N100m was allocated to small and medium entrepreneurs living within Gwoza town, while N50m was allocated to similar traders in Fulka, Izge, and Limankara towns, all in Gwoza LGA.
Depending on the sizes of their businesses, the jobs they create, and the capacity to pay back what was loaned, six traders received N1m each, 38 traders received N500,000 each, 250 others received N250,000 each, 404 others received N100,000 each and another 732 traders got N30,000 each.
The Governor explained that the loan/grant with a refundable period of four years is meant to resuscitate businesses and livelihoods destroyed by the Boko Haram insurgents in the communities of Gwoza.
Zulum announced that any beneficiary that is able to repay 50% of his or her loans within record time, will enjoy a waiver of the balance of 50%, while those who deliberately fail to repay within the dateline will be made to repay 100% of what they received as loans and grants.
Zulum shares food to 27,000 vulnerable residents
Meanwhile, 27,000 vulnerable residents of the Gwoza local government received a variety of food items during the Governor's ongoing two-day humanitarian trip which started on Friday.
11,000 male residents received food during Saturday's distribution, while 16,000 female residents are scheduled to receive similar food on Sunday.
Before embarking on his trip, Zulum had deployed dozens of trailers loaded with varieties of food items to Gwoza, for which he is directly supervising distribution.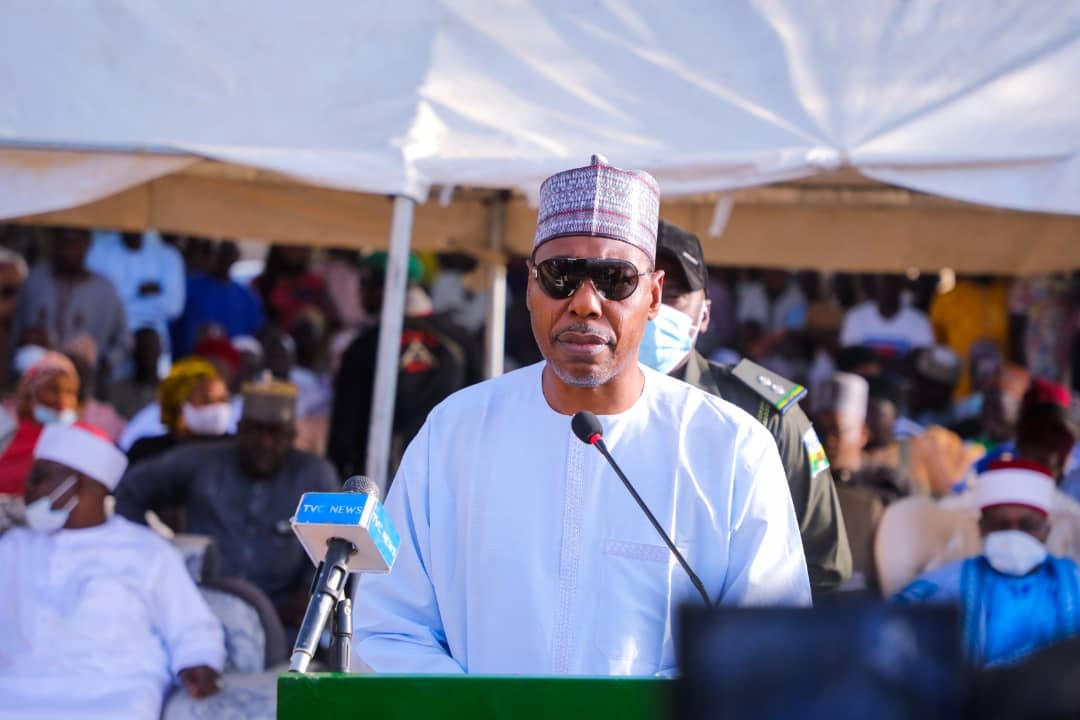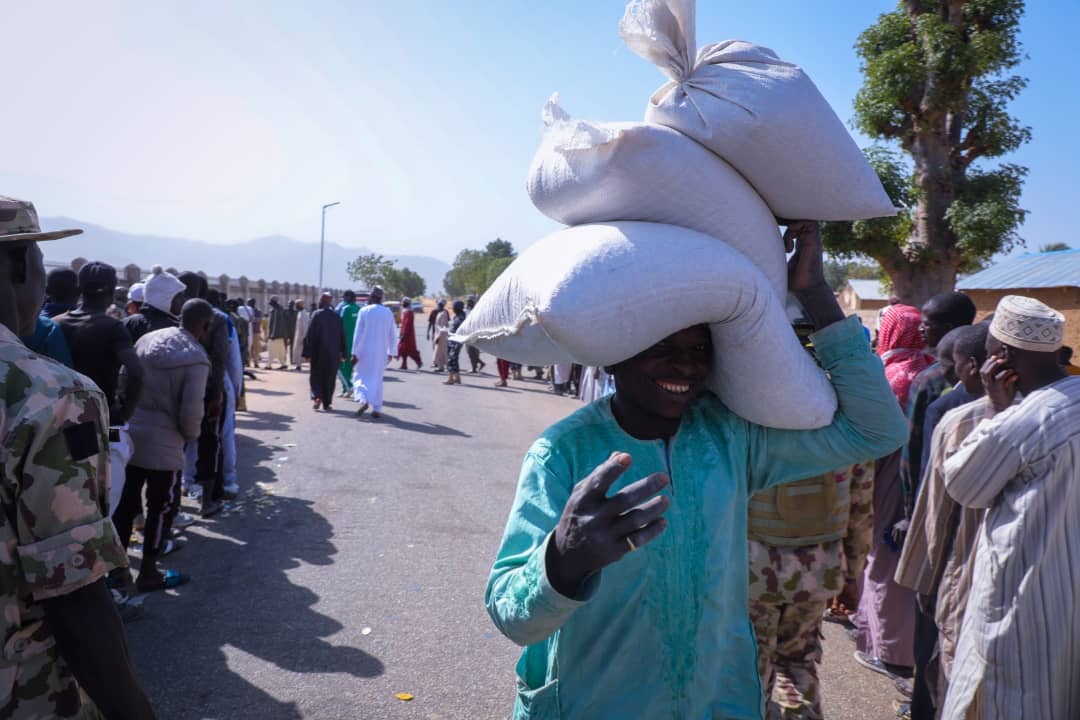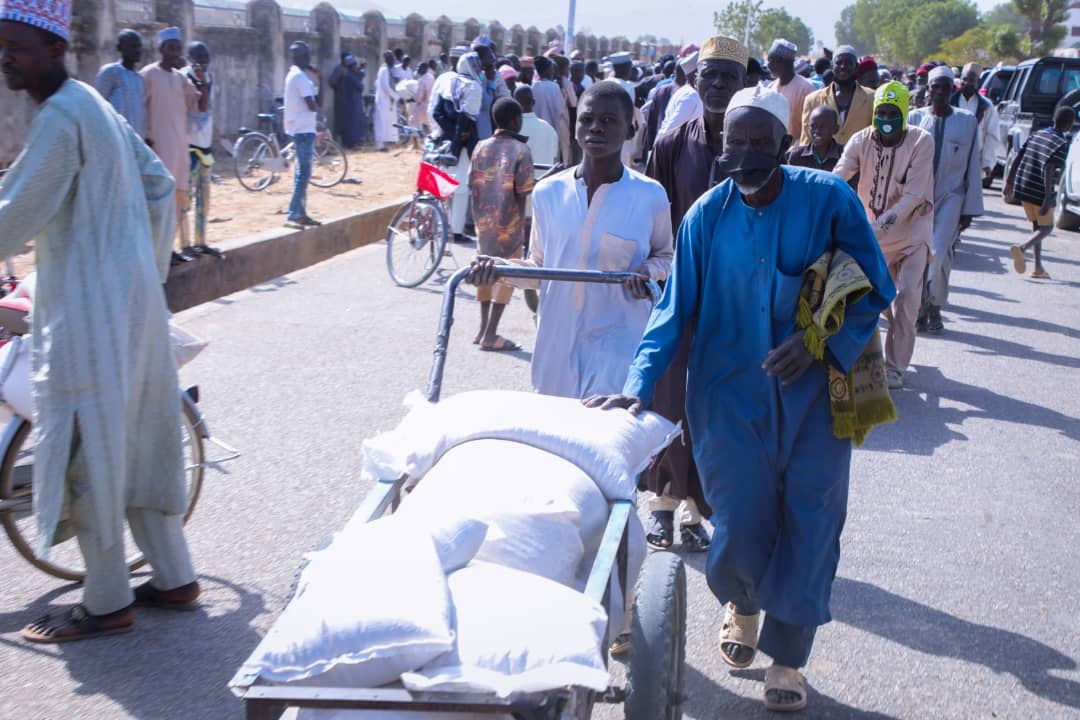 health centre opens in Kawuri
Before reaching Gwoza on Friday, Governor Babagana Umara Zulum commissioned a 50-bed capacity healthcare centre in Kawuri town of Konduga local government area, in the central part of Borno state.
The facility is expected to increase access to public healthcare for villagers in Kawuri, one of the communities where internally displaced persons have been resettled in more than 500 newly built resettlement houses.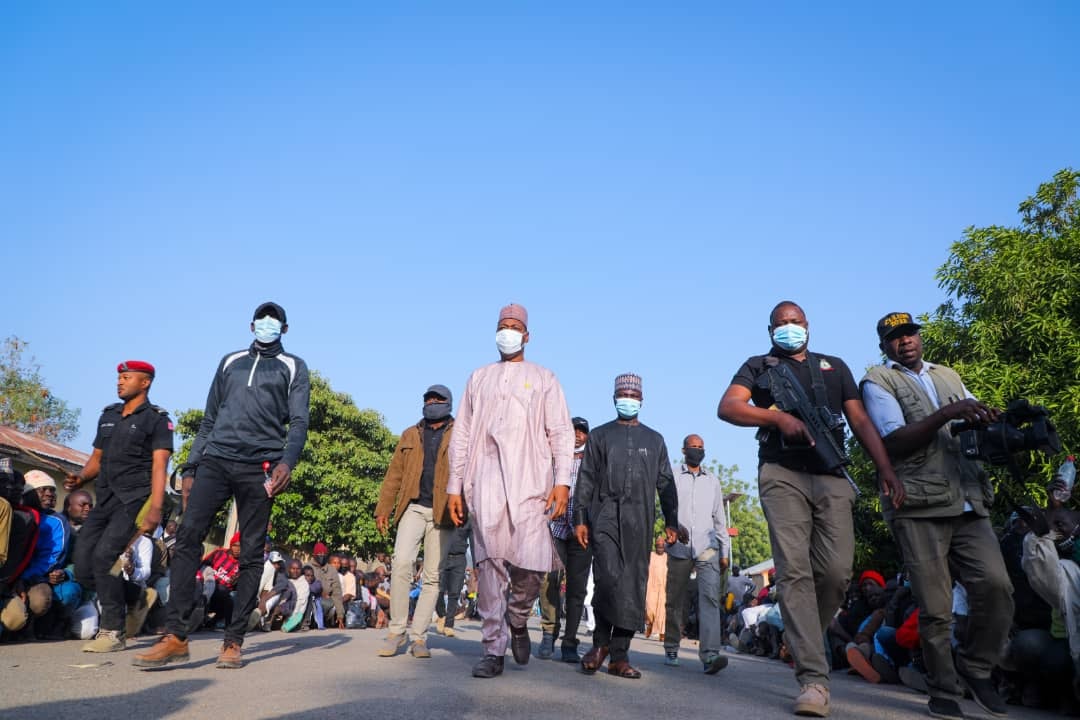 Zulum boosts Borno Express with 90 buses for 2,740 passengers
In a similar vein, Governor Zulum on Friday unveiled 90 units of mass transit buses to enhance the operations of Borno Express Corporation, a public transportation services company owned by the state government.
The buses include 40 units of 50 seaters and 50 units of 14 seaters, all of which have a combined capacity for two thousand seven hundred and forty passengers. 70 of the buses were on display while 20 were being branded.
Zulum unveiled the buses at the Ramat square ground in Maiduguri during a brief ceremony that was organized by the state's ministry of transport which oversees the activities of Borno Express.
"In fulfilment of our electioneering campaign to provide affordable means of transportation, we are here to unveil new buses to ease difficulties faced by the public," the governor said before tasking managers of Borno Express to inculcate a sustainable maintenance strategy that will ensure all vehicles remain functional.
After unveiling the buses, Governor Zulum dived into the area of commercial tricycles popularly called 'Keke NAPEP'.
Zulum directed the state's ministry of transport to liaise with the ministry of justice and all other relevant stakeholders to ensure sanity in the operations of Keke operators
The state commissioner of transport, Dr Abubakar Tijjani assured that all 90 buses will soon be deployed for public use.