Afrobeat Legend Fela Kuti Named As Rock & Roll Hall of Fame Nominee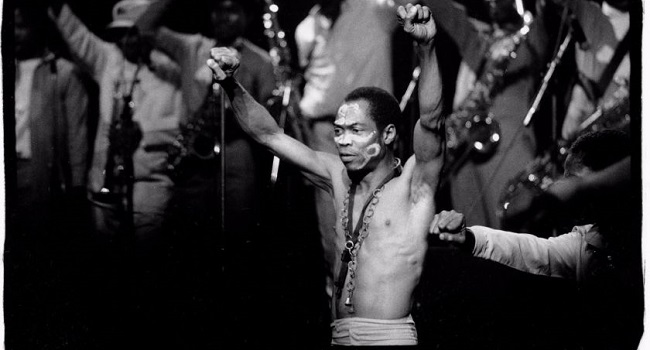 Nigerian Afrobeats Legend, Fela Anikulapo Kuti has received a nomination to be part of the Rock and Roll Hall of Fame.
The king of Afrobeat is joined by the likes of Tina Turner, Jay-Z, LL Cool J, and many more favorites.
Fela Kuti's estate has been keeping the Nigerian icon's name and legacy alive with a recent collaborative merch dropping and the resurgence of Finding Fela! , the documentary detailing his life, the Kuti name is one that won't be losing heat anytime soon.
Fela Kuti is an instrumentalist and musician who is credited for the creation and promotion of Afrobeat music from Nigeria. He is fondly remembered for speaking to issues that affected the nation through his music.
And now, the Rock & Roll Hall of Fame seems to be keen on immortalizing the creator of Afrobeat, as he's included on this year's list of nominees.
Other popular names on 2021's options for induction include US queens of R&B Mary J. Blige, Chaka Khan (her 7th time being nominated!), Dionne Warwick, rap mainstays Jay-Z, LL Cool J (his 6th nomination), rock superstars Foo Fighters, Rage Against the Machine and legends Tina Turner and Carole King.
The Rock & Roll Hall of Fame announced this year's nominees via their official Twitter account.
Congratulations to the #RockHall2021 Nominees! Read more about this list and the 2021 Induction at https://t.co/iL9HlcGbDd pic.twitter.com/HWaQzuPsS3

— Rock Hall (@rockhall) February 10, 2021
2020's virtual ceremony saw the Notorious B.I.G. and Whitney Houston inducted posthumously.
To be eligible for the nomination, the artist's first commercial record will need to be have been released at least 25 years before the year of nomination.
If you're a fan and an active voter, votes can be cast at RockHall.com. While fan votes add to the final count, they don't guarantee entry.
The Rock & Roll Hall of Fame announces the Nominees for #RockHall2021 Induction – and the Fan Vote is now open. Watch the official announcement here, then head to https://t.co/9DIz8WWd6Z pic.twitter.com/tGuSzyvEYT

— Rock Hall (@rockhall) February 10, 2021
The other nominees in the list include:
Mary J. Blige
Kate Bush
Devo
Foo Fighters
The Go-Go's
Iron Maiden
JAY-Z
Chaka Khan
Carole King
LL Cool J
New York Dolls
Rage Against the Machine
Todd Rundgren
Tina Turner
Dionne Warwick
In reaction to the nomination, Dionne Warwick thanked the establishment via her Twitter handle saying, "When God winks he does it with flair and a surprise. I'm thrilled!"
While the legendary Carole King simply said, "I'm so grateful."