Women's Day Held In Greece Amid #MeToo Furore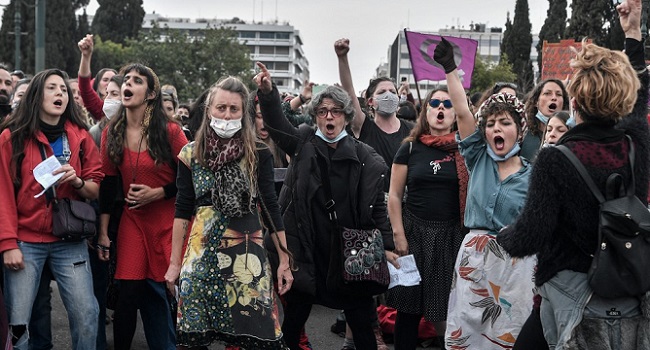 Hundreds of women marched for International Women's Day in Greece on Monday, at a protest with special poignancy as the country goes through a belated #MeToo awakening.
"This (commemoration) is more important today compared to previous years, precisely because we are going through the #MeToo movement in Greece," Marilena Kavazi, an actress, told AFP at the protest in Athens' central Syntagma Square.
"And we're proud of it," she said.
"March 8 to us is a day of struggle, not a celebration," said Popi Kalogeropoulou, a pensioner.
"We fight for equal rights, abused women… against femicide," she said.
Greece in recent months has been rocked by a wave of allegations of sexual abuse in the fields of arts, sport and education.
The most prominent case involves Dimitris Lignadis, the former artistic director of Greece's national theatre, who has been accused of raping minors.
READ ALSO: EU Looks To Secure Vaccine Supplies For Jabs Ramp-Up
Lignadis, who was placed in pre-trial detention last month, denies the charges.
Two other prominent actors have also lost high-profile jobs amid allegations of bullying and sex harassment, mainly targeting female colleagues.
More than three years after the #MeToo movement surfaced in the United States, the code of silence in Greece was broken in December by a two-time Olympic sailing medallist, Sofia Bekatorou.
Bekatorou said that when she was 21 she was subjected to "sexual harassment and abuse" by a senior federation member in his hotel room, shortly after trials for the 2000 Sydney Olympics.
Katerina Sakellaropoulou, Greece's first female president, on Monday said many women had become "caged victims" to family violence during the Covid-19 lockdown.
"There is nothing worse than having your private space turn into a prison of sorts, where you have to live with your abuser," Sakellaropoulou said.
AFP