PHOTOS: NLC Protest At Unity Fountain, NASS Over Minimum Wage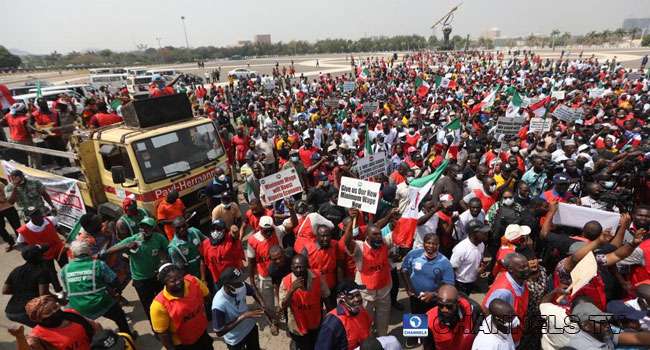 Hundreds of members of the Nigeria Labour Congress (NLC) on Wednesday staged a protest at the Unity Fountain and later marched to the National Assembly complex in Abuja, the nation's capital
The union and its affiliates are demanding the withdrawal of a bill that would remove the National Minimum Wage from the exclusive to the concurrent legislative list.
READ ALSO: Katsina NLC Joins Protest, Frowns At Attempt To Amend Minimum Wage Bill
The House of Representatives had about two weeks ago introduced a bill which according to the sponsor, Honourable Garba Mohammed would allow both the Federal and state governments to freely negotiate the minimum wage with their workers in line with the nation's federal system.
This move, the protesting workers say does not work in their favour, stressing that it is an attempt by some state governors and members of the National Assembly to short-change them.
SEE PHOTOS FROM THE PROTEST BELOW…