More Military Recruitment Needed To Tackle Insecurity, Says Retired Colonel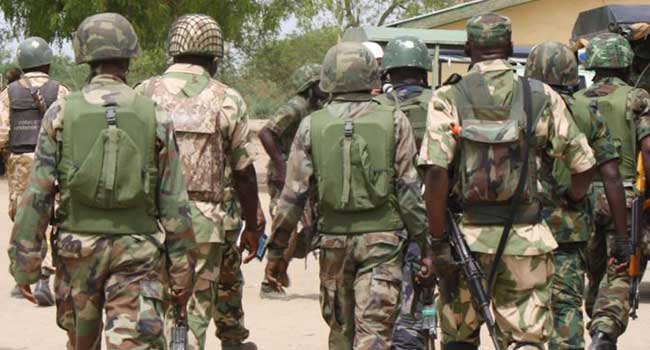 A retired colonel, Tony Nyiam, has called for the recruitment of more military personnel to tackle the disturbing rate of insecurity in the country, especially banditry and terrorism.
Speaking during his appearance on Channels Television's Sunrise Daily on Monday, he decried that the present number of the military workforce was inadequate compared to the security threats in the nation.
"I have been saying that the military we have (in terms of force level) is too low. We have less than 200,000 soldiers for a country as populated as Nigeria, and insecurity is all over the place.
"Why I said the service chiefs who are coming are doing their best is that with what they have, they are doing their best," Nyiam said.
He advised the Federal Government to take a cue from the regime of former Head of State, General Yakubu Gowon, who recruited scores of thousands of people into the military to boost the nation's security.
READ ALSO: Again, Troops Foil Attempt To Kidnap Students – Kaduna Govt
The former military officer noted that General Gowon, at the time, had a civil war to deal with, which he said was bigger than the present fight against banditry and insurgency.
He stated, "I always use the example of General Gowon who he came in and an army of less than 8,000 people; in less than six months, he built an army of over 200,000.
'The General I Knew Before'
"And apart from building the army, he also ensured something that had been lacking – he ensured that the locals of the different areas played a part."
"Gowon knew his shortcomings and he got in people like Chief Obafemi Awolowo, he had a very good Attorney-General, he had (Late Anthony) Enahoro, and he had the British who gave him access to the international (space)," Nyiam added.
According to him, President Muhammadu Buhari has not been reacting to the security situation as much until the last three weeks.
The colonel highlighted the two critical steps that must be taken by the President to include a formal declaration of war against banditry, terrorism, and other forms of criminality, and engaging the right set of advisers.
He commended President Buhari for rejecting the option of negotiating with bandits and his recent directive to security operatives on herdsmen with AK-47 rifles.
Nyiam, however, said the President should have made the directive clearer that only herdsmen carrying AK-47 who refuse to be disarmed should be shot.
"Those are two signs showing that Buhari who has never always talked about these AK-47 carrying herdsmen is saying 'shoot them at first sight if you see them in the forest'.
"In other words, I think President Muhammadu Buhari is becoming the General Buhari I knew before," the former military officer said.