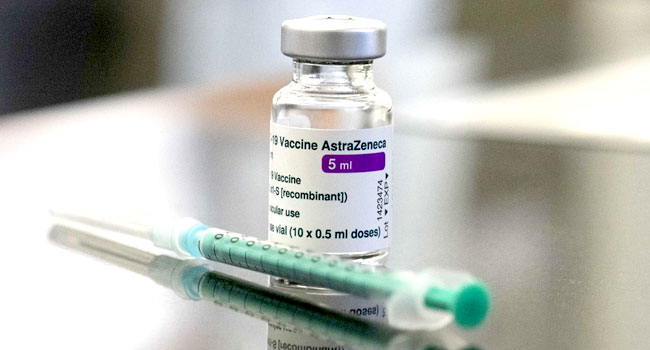 The Lagos State government on Tuesday listed 88 healthcare facilities across the state where residents can take the AstraZeneca COVID-19 vaccines.
These centres, which include military and police hospitals, have been selected to provide vaccination across the 20 Local Government Areas of the state.
The government stated that vaccination can only be obtained at any of the accredited facilities listed and warned that vaccination outside of the centres was highly prohibited.
READ ALSO: Lagos Govt Lists 88 Facilities For COVID-19 Vaccination
It also advised residents to stay away from unaccredited centres, stressing that failure to do so would attract heavy sanctions through the relevant government agencies.
Of the first tranche of 3.92 million doses received by the Nigerian government, Lagos State got 507,742 doses of the vaccine.
See the list of facilities accredited for vaccination by the state government below:
| | | | |
| --- | --- | --- | --- |
| S/N | LGA | WARD | FACILITY |
| 1 | Agege | Keke | Sango PHC |
| 2 | Agege | Orile | Powerline PHC |
| 3 | Ajeromi/Ifelodun | Oluwa/Akere | Akere PHC |
| 4 | Ajeromi/Ifelodun | Owoyemi | Layeni PHC |
| 5 | Ajeromi | Owoyemi | Signals Operation Command Clinic |
| 6 | Ajeromi | Alayabiagba | Obisesan Naval Medical Centre |
| 7 | Ajeromi/Ifelodun | Awodiora | Ajeromi GH |
| 8 | Alimosho | Alabata | Akowonjo PHC |
| 9 | Alimosho | Alagbado/Alakuko | AGBADO PHC |
| 10 | Alimosho | Idimu | Helen Aderonke PHC |
| 11 | Alimosho | Ipaja | Ipaja PHC |
| 12 | Alimosho | Isheri-Olofin | Isheri Olofin PHC |
| 13 | Alimosho | Okunola | Rauf Aregbesola PHC |
| 14 | Alimosho | Omituntun-Olori | Ipinlerere PHC |
| 15 | Alimosho | Igando | Alimosho GH |
| 16 | Alimosho | Gowonestate | NIGERIAN NAVY SICKBAY |
| 17 | Alimosho | Oguntade/Bameke | NAF Medical Centre Shasha |
| 18 | Amuwo Odofin | Ado Soba | BAT PHC |
| 19 | Amuwo Odofin | Agboju &Environ | Agboju PHC |
| 20 | Amuwo Odofin | Orire | Festac PHC |
| 21 | Amuwo | Kirikiri & Environ | NIGERIAN NAVY REFERENCE HOSPITAL |
| 22 | Apapa | Gaskiya | Olojowon Primary Health Centre |
| 23 | Apapa | Ijora | Ijora Oloye PHC |
| 24 | Apapa | Apapa | CFO MRS MILITARY HOSPITAL |
| 25 | Badagry | Apa | APA PHC |
| 26 | Badagry | Iworo-Gbanko | Ilado PHC |
| 27 | Badagry | Apa | NAF Mother & Child Hosp |
| 28 | Epe | Agbowa I | Agbowa PHC |
| 29 | Epe | Bado/Ebole/Etita/Iberikodo | Epe PHC |
| 30 | Epe | Agbowa | Agbowa GH |
| 31 | Eti Osa | 1004/Aboyade | Oriyanrin PHC |
| 32 | Eti Osa | Badore/Langbasa | Badore PHC |
| 33 | Eti Osa | Igbo-Efon/Maiyegun | Igbo Efon PHC |
| 34 | Eti Osa | Ijeh/Dolphin Estate | Ikoyi PHC |
| 35 | Eti Osa | Ikate/Lekki | IKATE PHC |
| 36 | Eti Osa | Sangotedo | SANGOTEDO PHC |
| 37 | Eti Osa | Okunmopo/Ogombo | MCC |
| 38 | Eti-Osa | Falomo | Police Hospital |
| 39 | Eti-Osa | Vi2 | 65 Batallion MRS Hospital |
| 40 | Ibeju Lekki | Ibeju I | IBEJU PHC |
| 41 | Ibeju Lekki | Orimedu I | Akodo GH |
| 42 | Ifako/Ijaye | Alagbado/Kollinton | Agbado Kola PHC |
| 43 | Ifako/Ijaye | Ifako/Coker | Ifako Primary Health Centre |
| 44 | Ifako/Ijaye | Ifako/Coker | Ifako GH |
| 45 | Ikeja | Ojodu | OJODU PHC |
| 46 | Ikeja | Onilekere | ONILEKERE PHC |
| 47 | Ikeja | Oregun | Oregun PHC |
| 48 | Ikeja | G.R.A. | LASUTH |
| 49 | Ikeja | Onigbongbo | 9BMC Army Cantonment Ikeja |
| 50 | Ikorodu | Atere | Imota PHC |
| 51 | Ikorodu | Ipakodo | Ipakodo PHC |
| 52 | Ikorodu | Isele | Ikorodu Phc |
| 53 | Ikorodu | Itumokun | Igbogbo Phc |
| 54 | Ikorodu | Oke-Eletu/Abule-Eko | OKE ELETU PHC |
| 55 | Ikorodu | Odongunyan | 174 Batallion Child Health Care |
| 56 | Kosofe | Ogudu | Ogudu PHC |
| 57 | Kosofe | Bamgbe/Elebiju | KETU PHC |
| 58 | Kosofe | Ikosi-Oke | Ikosi PHC |
| 59 | Kosofe | Araromi Ifako | Gbagada GH |
| 60 | Lagos Island | Epetedo East | Sura PHC |
| 61 | Lagos Island | Oke-Olowogbowo | Olowogbowo Phc |
| 62 | Lagos Island | Odan | LIMH |
| 63 | Lagos Mainland | Aloba/Desalu | Abule nla PHC |
| 64 | Lagos Mainland | Freeman/Glover | Simpson PHC |
| 65 | Lagos Mainland | Salami/ Baiyewunmi | IWAYA PHC |
| 66 | Lagos Mainland | IPONRI Olaleye | Federal Medical Centre Ebute Metta |
| 67 | Lagos Mainland | Abule Ijesha | Infectious Disease Hospital |
| 68 | Lagos Mainland | Onike Oyadiran | Nig. Sec. Printing & Mint Corp. Hospital |
| 69 | Lagos Mainland | Abule Oja | Yaba 68 Nig Army Reference Hospital |
| 70 | Mushin | Alakara | Kajola PHC |
| 71 | Mushin | Papa Ajao | Palm Avenue PHC |
| 72 | Mushin | Idi Araba | LUTH |
| 73 | Ojo | Egan | Ishagira PHC |
| 74 | Ojo | Etegbin | Imude PHC |
| 75 | Ojo | Iba | Iba PHC |
| 76 | Ojo | Ijanikin | Otto/Ijanikin PHC |
| 77 | Ojo | Ojo Town | OJO PHC |
| 78 | Ojo | Ira | 149 Battalion MRS |
| 79 | Ojo | Okokomaiko | Navy Hospital |
| 80 | Oshodi | Ifoshin | Iyana-Ejigbo PHC |
| 81 | Oshodi | Igbehinadun | Oshodi PHC |
| 82 | Oshodi | Ilasamaja | Ilasa PHC |
| 83 | Oshodi | Shogunle | Shogunle  Ikeja NAF |
| 84 | Oshodi | Oluyeye | Port Health |
| 85 | Shomolu | Igbari | AKOKA PHC |
| 86 | Shomolu | Owode /Orile Bariga | CMS PHC |
| 87 | Surulere | Babatunde Ayilara | Akerele PHC |
| 88 | Surulere | Osho | Orile Iganmu PHC |