Nigeria Records Seven More Deaths, 104 New COVID-19 Cases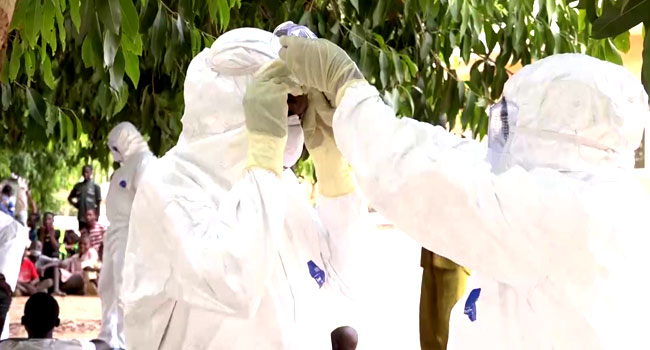 Nigeria on Sunday reported seven more deaths from complications related to the coronavirus (COVID-19) disease, authorities have said.
The Nigeria Centre for Disease Control (NCDC) confirmed this in its latest update on the outbreak of the disease in the country.
In a late-night tweet, it noted that the new fatalities recorded have raised the death toll from the disease in the 36 states and the Federal Capital Territory to 2,048.
Similarly, the health agency which is responsible for the management of disease outbreaks in the country said 104 new cases were confirmed from 11 states and the nation's capital.
Of the new infections, Lagos reported the highest figure – 48, followed by Enugu – 16, Kwara – eight, and Kaduna – six.
Others are Plateau – five, Kano – five, Rivers – four, FCT – four, Ogun – four, Edo – two, Ekiti – one, and Katsina – one.
104 new cases of #COVID19Nigeria;

Lagos-48
Enugu-16
Kwara-8
Kaduna-6
Plateau-5
Kano-5
Rivers-4
FCT-4
Ogun-4
Edo-2
Ekiti-1
Katsina-1

162,593 confirmed
150,308 discharged
2,048 deaths pic.twitter.com/ggqMKCBIrN

— NCDC (@NCDCgov) March 28, 2021
As of 10am on Monday, Nigeria has a total of 162,593 confirmed cases of COVID-19 with 150,308 discharged, following the recovery of additional 103 people.
While the country has tested a total of 1,767,694 samples for COVID-19, 10,237 cases are still active.
See the breakdown of COVID-19 figures in Nigeria, according to states below:
| States Affected | No. of Cases (Lab Confirmed) | No. of Cases (on admission) | No. Discharged | No. of Deaths |
| --- | --- | --- | --- | --- |
| Lagos | 57,581 | 152 | 56,990 | 439 |
| FCT | 19,617 | 2,397 | 17,064 | 156 |
| Plateau | 9,024 | 51 | 8,916 | 57 |
| Kaduna | 8,914 | 59 | 8,790 | 65 |
| Rivers | 6,909 | 42 | 6,767 | 100 |
| Oyo | 6,838 | 494 | 6,221 | 123 |
| Edo | 4,875 | 36 | 4,654 | 185 |
| Ogun | 4,617 | 122 | 4,446 | 49 |
| Kano | 3,902 | 25 | 3,767 | 110 |
| Ondo | 3,168 | 1,026 | 2,080 | 62 |
| Kwara | 3,078 | 209 | 2,814 | 55 |
| Delta | 2,599 | 784 | 1,744 | 71 |
| Osun | 2,524 | 27 | 2,445 | 52 |
| Nasarawa | 2,318 | 1,932 | 373 | 13 |
| Enugu | 2,237 | 285 | 1,923 | 29 |
| Katsina | 2,083 | 19 | 2,030 | 34 |
| Gombe | 2,030 | 3 | 1,983 | 44 |
| Ebonyi | 2,007 | 24 | 1,951 | 32 |
| Anambra | 1,909 | 64 | 1,826 | 19 |
| Akwa Ibom | 1,762 | 312 | 1,436 | 14 |
| Abia | 1,665 | 1 | 1,643 | 21 |
| Imo | 1,642 | 70 | 1,535 | 37 |
| Bauchi | 1,521 | 3 | 1,501 | 17 |
| Borno | 1,327 | 89 | 1,200 | 38 |
| Benue | 1,188 | 575 | 591 | 22 |
| Adamawa | 1,051 | 745 | 274 | 32 |
| Niger | 930 | 496 | 417 | 17 |
| Taraba | 910 | 24 | 864 | 22 |
| Ekiti | 865 | 46 | 808 | 11 |
| Bayelsa | 852 | 42 | 784 | 26 |
| Sokoto | 774 | 1 | 745 | 28 |
| Jigawa | 518 | 17 | 485 | 16 |
| Kebbi | 442 | 34 | 392 | 16 |
| Cross River | 366 | 8 | 341 | 17 |
| Yobe | 313 | 20 | 284 | 9 |
| Zamfara | 232 | 3 | 221 | 8 |
| Kogi | 5 | 0 | 3 | 2 |