Buhari Orders Service Chiefs To Identify Leaders Of Bandits, Kidnappers
President Muhammadu Buhari on Tuesday ordered the service chiefs to identify the leaders of the bandits and kidnappers and take them out to restore confidence in the areas affected.
The president gave the directive as a first assignment to the service chiefs and declared that he would no longer condone a situation where kidnappers set the tone.
The National Security Adviser, Babagana Munguno told State House correspondents that President Buhari gave this directive to Service Chiefs at the security meeting held at the presidential villa.
Monguno said the President also issued a warning to all those collaborating with criminals, promising to deal decisively with them.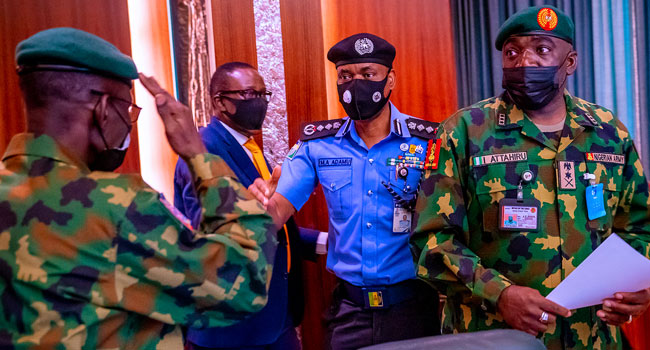 Also, the Service Chiefs at the security meeting disclosed that they have identified weak areas that would be strengthened to appropriately fish out collaborators with non-state actors.
READ ALSO: Recruit 50 Million Youths Into Army To Tackle Insecurity – Tinubu Tells FG
Monguno said further that the President is aware of plans by individuals who constitute themselves as authorities to undermine the efforts of the central government and is sending out a warning that the government would clamp down on them.
Monguno added that the President wants more proactive action from the military, as he issues a strong directive.
"On the issues of kidnapping and banditry, this menace still persists, especially in the North West and the North-Central zones.
"Mr President has been very emphatic. He has stated clearly that this problem must be brought to an end, but using the traditional methods that the armed forces have been trained to deploy.
"Mr President has made it very clear to both the intelligence and operational elements that the first assignment will be to identify the leaders of these bandits, kidnappers and take them out, in order to restore confidence in those areas," Monguno said.
He also conveyed the President's displeasure over some persons who collaborate to undermine efforts of the Federal Government in Zamfara State.
"He is also aware of attempts by certain elements, working in cahoots with all kinds of people in and out of the country to continue to exploit the minefields, especially in Zamfara State.
"A ban has been placed on mining and that ban has to be enforced. People have to comply with whatever the President has laid out.
Of course, we, in the intelligence domain are aware that there are individuals and groups who are planning to link up with all kinds of non-state actors in order to frustrate the efforts of the government in implementing the ban on mining, as well as enforcing the no-fly-zone so that no rotary aircraft will land, drop whatever and pick up whatever. That has to be enforced."