Organised Labour In Taraba Suspends Strike After 17 Days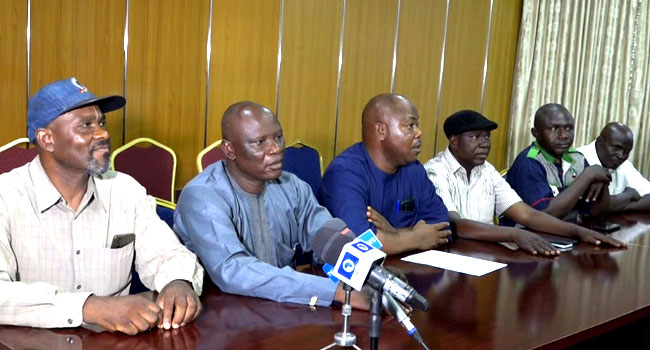 The organised labour in Taraba State has suspended its industrial action declared over the N30,000 minimum wage to workers in the state.
Chairman of the Taraba State Joint Public Service Negotiating Council, Musa Buhari, announced the suspension of the strike on Thursday at a press conference in Jalingo, the state capital.
Members of the organised labour in Taraba, comprising the Nigeria Labour Congress (NLC) and Trade Union Congress (TUC) began the strike on March 22 over the failure of the government to implement the new national minimum wage.
Musa explained that the decision to suspend the strike was as a result of an agreement with the state government to work out modalities for the implementation of the new minimum wage within three months – from April to June.
He called on civil servants in the state to resume work immediately, but report any attempt of victimisation on account of compliance with the industrial action.
Read the full text of Musa Buhari at the briefing below:
Fellow workers of Taraba State,

We bring you fraternal greetings and appreciation for your commitment to the struggle for the Implementation of the New National Minimum Wage of Thirty Thousand (N30,000.00) Naira only in the State.

Recall that the Organized Labour under the auspices of SJPSNC directed Workers to resume Industrial Strike Action on the 22 March 2021 over non-implementation of the New National Minimum Wage the State which you fully complied.

During the period of the strike action, the organized labour has had series of meaningful dialogue with the Government.

Modalities for implementation of the New National Minimum Wage within three months (i.e., April to June 2021) are being worked out.

Consequently, the Industrial Strike Action is hereby suspended, and all workers are directed to resume work immediately.

Workers are equally enjoined to report any attempt of victimization on account of participating in the strike action from any quota to the Organized Labour.

Solidarity forever! Aluta continua!!