Ishaku To Implement Financial Autonomy For Judiciary, Legislature In Taraba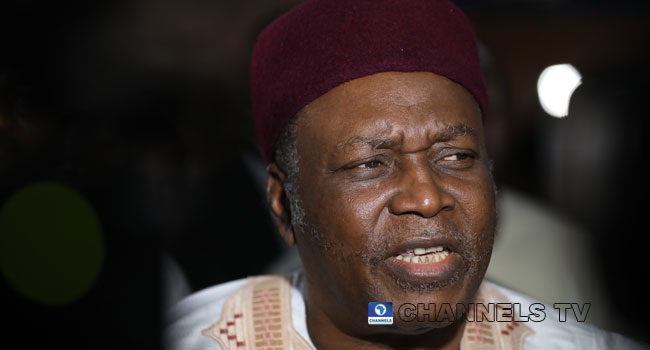 The Taraba state Governor Darius Ishaku has stressed that judicial and legislative autonomy is a necessity for a strong democracy in Nigeria to excel.
The Governor said he will not hesitate in joining his counterparts across the nation in implementing the financial autonomy of both arms of government in Taraba to provide justice for the common man.
He made the comment while inaugurating a new Grand Khadi of the state Dahiru Ahmad on Friday in Jalingo.
While appealing to JUSUN to suspend its ongoing strike action in the interest of justice especially those in detention, the Governor urged them to imbibe the virtues of equity, moral uprightness, live above board and fair.
"Permit me to use this rare opportunity to reiterate that I am not opposed to judicial and legislative autonomy, rather I believe that financially independence for judiciary and the legislature is essential for a strong democracy," Ishaku said.
"Therefore we shall not hesitate to join other states of the federation in implementing the financial autonomy of both arms of government.
"Let me also reassure the judiciary of our determination to maintain and expand on the existing synergy to provide better justice to the common man.
"I will also like to take this opportunity to strongly urge JUSUN to suspend their ongoing strike action in the interest of justice even as the negotiations are ongoing.
"Hopefully, an amicable resolution to all of their demands will later be met.
"This call has become urgent in the light of the fact that many innocent people are languishing in detentions without trials and several law suits have been allowed to drag on unnecessarily.
"In the meantime, I urge the bar and the bench to imbibe the virtues of equity, moral uprightness and fairness, so that justice can be delivered to the masses in an effective, efficient and timely manner."
He also encouraged serving judges to live above board as their actions and inactions have reaching consequences in the lives of others.
"They should see their jobs as a way to serve God and humanity," he said.
While inaugurating the new Grand Khadi, Governor Ishaku said his appointment is based on merit following the demise of the former occupant of the office.
"The late Grand Khadi did not only serve faithfully, but was an epitome of justice and fairness," he said.
"Government has always ensured that we have appointment of judges wherever the vacancy exists.
"As the new Grand Khadi you are expected to uphold the constitution by doing justice to all manner of people in order to reflect the tenets of the oath you have just taken as the judiciary is the last hope of the common man of which I Darius Ishaku standing here is a beneficiary."
The Governor assured the new Grand Khadi of his support in all ramifications.
A minute silence was also observed in honour of the late Grand Khadi.