Surrender Yourself, DSS Tells Sunday 'Igboho'
The Department of State Services (DSS) has called on Sunday Adeyemo 'Igboho' to turn himself to security officials as the agency confirmed it has launched a manhunt for the Yoruba nation agitation. 
DSS spokesman Peter Afunanya said this in a press briefing on Thursday evening in Abuja while confirming a raid on Igboho's house in Ibadan, Oyo State by the security agency.
"Consequently, ADEYEMO/IGBOHO is advised to turn himself in to the nearest security agency," Afunanya said during the briefing in which he noted that the agency captured thirteen of Igboho's men.
"Those cheering and eulogising him may appeal to or advise him to do the needful. He should surrender himself to the appropriate authorities. He or anyone can never be above the law. Meanwhile, those arrested will be charged accordingly."
He said that the DSS recovered a cache of illegal arms — including seven AK-47 rifles — from Igboho's house during the raid carried out on Thursday morning.
Afunanya narrated that when the security operatives approached the house, they were attacked by nine of Igboho's boys who engaged them in a gun duel but were subsequently overpowered.
The DSS official explained that two of Igboho's men were killed while an operative sustained injuries. He, however, said Igboho escaped during the gun battle and is currently on the run.
"He may hide as long as he wants. He might have attacked security operatives as his strength carried him," the DSS noted. "But this will be the end of his shenanigans. Soon, he will not have a hiding place."
READ ALSO: IPOB Cannot Give Sit-At-Home Order In Rivers – Wike
A Crackdown On Separatists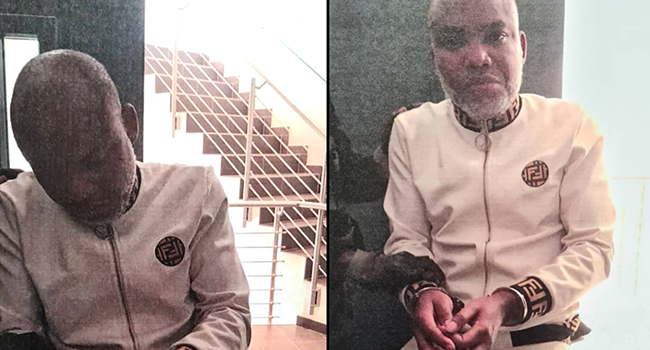 Igboho rose to prominence earlier in the year after he issued a quit notice to herders in Oyo State accused of crimes.
The raid comes less than a week after the arrest of prominent pro-Biafran independence leader Nnamdi Kanu. The leader of the Indigenous People of Biafra (IPOB) group, which supports the secession of the south-east of Nigeria, Kanu was arrested abroad after four years on the run and brought to Nigeria, where he will go on trial for "terrorism" this month.
Biafra — a deprived region almost entirely populated by the Igbo people — was the site of a bloody civil war between 1967 and 1970.
READ ALSO: It Will Be Unwise To Go After Sunday Igboho, Mailafia Tells Security Agents 
A nation of 210 million and over 200 ethnic groups, Nigeria is regularly rocked by ethnic tensions.
The three largest groups are the Hausa-Fulani in the north, the Igbo in the south-east and the Yoruba in the southwest.