COVID-19: Nigeria Records 422 New Cases, Five More Deaths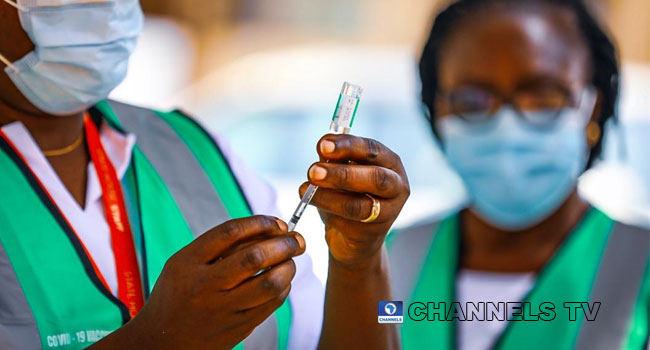 Nigeria on Monday recorded 422 new cases of COVID-19 and five more deaths, this is according to the Nigeria Centre for Disease Control (NCDC).
In the agency's latest report, the infections were recorded in nine states. Lagos takes the lead with 190 cases, followed by Rivers (86) and Ogun (85).
Others are Oyo (22), FCT (20), Kwara (7), Edo (5), Abia (4), and Bayelsa (3)
Till date a total of 178,508 cases have been confirmed, 165,983 patients have been discharged and 2,192 deaths have been recorded in 36 states, including the Federal Capital Territory.
More than 200 million cases of the pandemic have been confirmed with a spike in the death toll of four million globally.
READ ALSO: Second Phase Of Covid Vaccination To Begin August 16 – NPHCDA
A third wave of the pandemic, spurred by the more infectious Delta variant, has limited efforts by governments across the world to ease restrictions and boost economic activities which were grounded for the most part of last year.
It has also hindered the global vaccination drive with the efficacy of some vaccines less when it comes to the variant.
Recently, the Executive Director of the National Primary Health Care Development Agency (NPHCDA), Dr Faisal Shuaib announced the commencement of the second phase of the COVID-19 vaccination programme on August 16.
The Federal Government had earlier scheduled the exercise to begin on Tuesday, but it was postponed due to "unforeseen circumstances," according to a spokesperson in the Office of the Secretary to the Government of the Federation, Willie Bassey.
Dr Shuaib said the postponement became necessary for preparations to be finalised.
"The start date for the vaccination has been postponed to next week Monday," he said.
"This is to enable NAFDAC to finish its assessment and preparatory processes."
| States Affected | No. of Cases (Lab Confirmed) | No. of Cases (on admission) | No. Discharged | No. of Deaths |
| --- | --- | --- | --- | --- |
| Lagos | 66,341 | 7,347 | 58,529 | 465 |
| FCT | 20,108 | 170 | 19,768 | 170 |
| Kaduna | 9,194 | 37 | 9,091 | 66 |
| Plateau | 9,120 | 42 | 9,021 | 57 |
| Rivers | 8,062 | 456 | 7,504 | 102 |
| Oyo | 7,379 | 394 | 6,842 | 143 |
| Edo | 4,969 | 24 | 4,760 | 185 |
| Ogun | 4,942 | 197 | 4,684 | 61 |
| Kano | 4,031 | 7 | 3,914 | 110 |
| Ondo | 3,644 | 121 | 3,455 | 68 |
| Kwara | 3,290 | 167 | 3,068 | 55 |
| Akwa Ibom | 3,089 | 756 | 2,301 | 32 |
| Delta | 2,705 | 77 | 2,556 | 72 |
| Osun | 2,636 | 40 | 2,541 | 55 |
| Enugu | 2,490 | 16 | 2,445 | 29 |
| Nasarawa | 2,404 | 20 | 2,345 | 39 |
| Gombe | 2,189 | 27 | 2,118 | 44 |
| Katsina | 2,164 | 29 | 2,100 | 35 |
| Ebonyi | 2,047 | 13 | 2,002 | 32 |
| Anambra | 1,923 | 78 | 1,826 | 19 |
| Abia | 1,740 | 3 | 1,715 | 22 |
| Imo | 1,688 | 27 | 1,624 | 37 |
| Bauchi | 1,553 | 2 | 1,534 | 17 |
| Benue | 1,366 | 15 | 1,327 | 24 |
| Borno | 1,344 | 1 | 1,305 | 38 |
| Adamawa | 1,134 | 4 | 1,098 | 32 |
| Ekiti | 1,046 | 125 | 908 | 13 |
| Taraba | 1,001 | 0 | 977 | 24 |
| Niger | 963 | 29 | 914 | 20 |
| Bayelsa | 953 | 15 | 912 | 26 |
| Sokoto | 788 | 0 | 760 | 28 |
| Jigawa | 562 | 25 | 521 | 16 |
| Yobe | 499 | 0 | 490 | 9 |
| Kebbi | 450 | 42 | 392 | 16 |
| Cross River | 438 | 11 | 406 | 21 |
| Zamfara | 251 | 7 | 236 | 8 |
| Kogi | 5 | 0 | 3 | 2 |