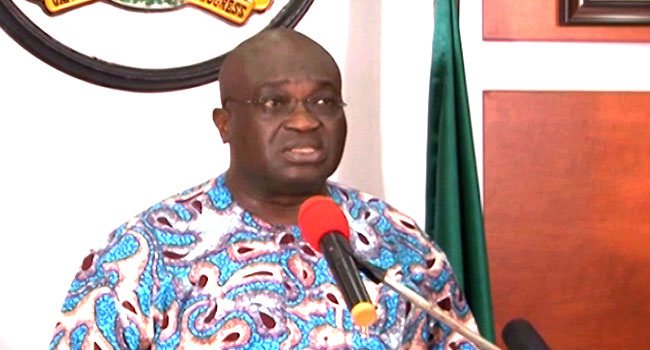 The National Association of Resident Doctors (NARD) has berated the Abia State Government over its alleged failure to pay the 19 months' salary arrears to members.
NARD in a communique issued on Wednesday after its extraordinary National Executive Council meeting held at the University of Benin Teaching Hospital described the situation as disappointing.
"The NEC was disappointed but not surprised at the Governor of Abia State for failing to offset the nineteen (19) months' salary arrears being owed our members in his state which he promised to pay over 23 days ago," the communique partly read.
READ ALSO: Striking Doctors Refuse To Sign New MoU With FG After Six-Hour Meeting
The doctors also "frowned at the actions of the governors of Imo, Ekiti and Ondo states who are still owing our members 10 months, 6 months and 4 months respectively."
It also decried a situation whereby 114 House Officers were yet to be paid their one to six months salaries.
Despite the unanimous disapproval and calling for the withdrawal of the circular removing the HOs from the scheme of service, the association described as surprising a situation whereby the Lagos State Government would go ahead to implement the same circular in the state.
On the hazard allowance issued to medical practitioners, the resident doctors said the N5,000 sum given to doctors, nurses and other health care workers is paltry.
"NEC recognized the public outcry occasioned by the ongoing industrial action. The Association is however constrained as the families of the 19 members who died during the COVID-19 outbreak while providing health care services are yet to get their death in service insurance.
"The NEC noted that despite the ongoing strike action of twenty-three (23) days, her members in twenty-three (23) centers under the GIFMIS Platform are yet to be migrated and captured on the IPPIS Platform with payment of an outstanding backlog of 3-4  months.
"They observed with dismay that despite the express instructions given by the President of the Federal Republic of Nigeria to the FMOH to sidestep all technicalities in resolving the issues of dispute between us and the government, not one item on the table has been resolved," the communique stated further.
See the full communique issued by the resident doctors below: 
NARD/SG/2020-2021/250821/                                                                                    25th August 2021

COMMUNIQUE ISSUED AT THE END OF AN EXTRAORDINARY NATIONAL EXECUTIVE COUNCIL (E-NEC) MEETING OF THE NIGERIAN ASSOCIATION OF RESIDENT DOCTORS (NARD) HELD AT THE UNIVERSITY OF BENIN TEACHING HOSPITAL ON THE 25TH OF AUGUST 2021

PREAMBLE

The Extraordinary National Executive Council (E-NEC) Meeting of the Nigerian Association of Resident Doctors (NARD) held at the University of Benin Teaching Hospital (UBTH) on the 25th of August 2021 at 1:00 pm. It was both physical and virtual. The meeting had in attendance over 60 member centres of NARD, to discuss the issues bedeviling her members.

OBSERVATION

The NEC appreciated the NOC for their effort concerning the welfare of members.
The NEC noted the nonchalant attitude of appointees of the Government to the suffering of Nigerian Doctors.
The NEC noted that despite the ongoing strike action of twenty-three (23) days, her members in twenty-three (23) centres under the GIFMIS Platform are yet to be migrated and captured on the IPPIS Platform with payment of an outstanding backlog of 3-4 months.
They observed with dismay that despite the express instructions given by the President of the Federal Republic of Nigeria to the FMOH to side step all technicalities in resolving the issues of dispute between us and the government, not one item on the table has been resolved.
The NEC was also embarrassed by the misinterpretation of the court ruling by the Federal Ministry of Labour, thereby misinforming the public that the National industrial court had ordered that the strike should suspended.
The NEC noted that despite the health emergencies (COVID-19, Cholera and possibly Lassa Fever as we approach the dry season) ongoing in the Country, the supervising Minister of Health is yet to convoke an emergency meeting of the National Council on Health to look into the issues, in keeping with the National Health Act.
The NEC painfully observed that issues bedeviling most of our State Tertiary Health Institutions are left unattended to despite the ongoing strike action. They noted that these issues can be solved through the National Council on Health.
The NEC was disappointed but not surprised at the Governor of Abia State for failing to offset the nineteen (19) months salary arrears being owed our members in his state which he promised to pay over 23 days ago. They also frown at the actions of the governors of Imo, Ekiti and Ondo states who are still owing our members 10 months, 6 months and 4 months respectively.
The NEC noted that one-hundred and fourteen (114) House Officers are yet to be paid their one (1) to six (6) months salaries.
It was surprising to the NEC that despite the unanimous disapproval and call for the withdrawal of the circular removing the HOs from the scheme of service, the Lagos state government has gone ahead to implement same circular in the state.
The NEC reiterated her displeasure over the paltry five thousand naira (5000) Hazard allowance given to Doctors, Nurses and other Health Care workers.
NEC recognized the public outcry occasioned by the ongoing industrial action. The Association is however constrained as the families of the 19 members who died during the COVID-19 outbreak while providing health care services are yet to get their death in service insurance.

RESOLUTION

After critical appraisal of the actions of both federal and state Government on all the issues affecting the welfare of our members as observed above and the perpetual insincerity from Government as evidence by the reckless exparte injunctions sought by the government and the ambiguity in the interpretation of the ruling of the National industrial court of Nigeria, NICN, the NEC unanimously agreed via vote to sustain the ongoing industrial action until her demands are met as contained in the MOA signed more than 140 days ago and the recent MOU signed between the government and NMA.
The NEC reiterated her position that the circular from the head of service removing house officers from the scheme of service must be withdrawn
The NEC demanded that an emergency meeting of the National Council on health be convoked to discuss these health emergencies and to fashion out ways to universally resolve all the issues affecting the state health institutions in the country.

APPRECIATION

On behalf of the entire 16,000 members of the Nigerian Association of Resident Doctors (NARD), the President and the National Officers committee express their heartfelt gratitude to the citizens of the Federal Republic of Nigeria for understanding the plight of the Resident Doctors.

Long live NARD

Long live NMA

Long live the Federal Republic of Nigeria