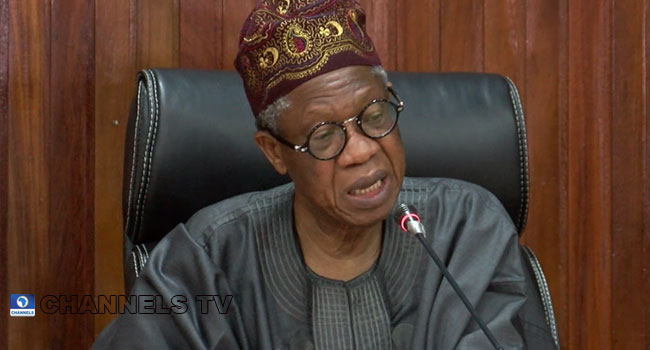 The Minister of Information and Culture, Lai Mohammed, on Wednesday, claimed that there is no evidence to show that any protester was killed at the Lekki tollgate on October 20, 2020.
He stated this during a press conference held in Abuja as young people took to the streets nationwide to mark the first anniversary of the #EndSARS protests.
Mohammed also faulted the claim by Amnesty International that no fewer than 12 protesters were killed in Lagos State by security operatives during the EndSARS protest.
He described the claim as a 'phantom'.
He also asked the Cable News Network (CNN), DJ Switch among others to "apologize for misleading the world that there was a massacre at the Lekki Toll Gate and for portraying the Nigerian military, police and other security agencies in a bad light."
According to the government's spokesman, CNN acted unprofessionally by relying on unverified and possibly doctored social media videos, as well as other open-source information, to conclude that a massacre took place at the toll gate.
READ ALSO: #EndSARS Anniversary: Why Police Fired Tear Gas At Lekki Tollgate – Lagos CP
He said, "One year later, and despite ample opportunities for the families of those allegedly killed and those alleging a massacre to present evidence, there has been none: No bodies, no families, no convincing evidence, nothing. Where are the families of those who were reportedly killed at the toll gate? Did they show up at the Judicial Panel of Inquiry? If not, why?
"Recall, gentlemen, that after bandying different figures, Amnesty International finally settled at about 12 people killed. On its part, CNN went from 38 people killed to two to just one, after a supposed global exclusive even when the network had no reporter on the ground at the Lekki Toll Gate on Oct. 20th, 2020."
Speaking further, Mohammed said the Federal Government is proud of the security agencies for acting professionally and showing utmost restraint all through the EndSARS protest and the ensuing violence, an action that saved lives and properties.
This is even as he accused CNN Human Rights Organizations for downplaying the deaths of six soldiers and 37 policemen who died during the protests.