Sanwo-Olu Visits Survivors Of Ikoyi Building Collapse In Hospital
Governor Babajide Sanwo-Olu has visited survivors of the Ikoyi building collapse who are being admitted in a hospital.
The governor paid the visit early on Thursday, assuring them that they would receive the best of care and will not be discharged until they have been cleared by the medical team.
"I visited the survivors of the building collapse this morning and gave them my word that they will get the best of care in the hospital, and will not be discharged until they have been given the all-clear by the medical team attending to them," the governor said in a statement.
"As much as we sympathise with all concerned, we will also ensure that we are open and thorough in investigating the cause of the collapse," he assured.
Governor Sanwo-Olu also noted that a high-powered professional investigative panel has been set up, with its membership drawn from professionals outside of the government.
Read Also: Ikoyi Building Collapse: It's Been Said That The Owner Was Also On The Site – Sanwo-Olu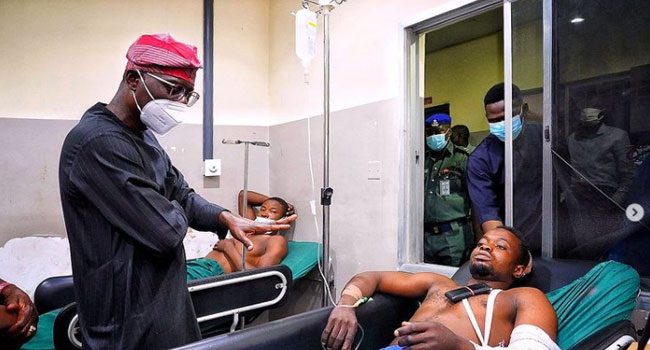 According to him, the panel which is headed by the President of the Nigeria Institute of Town Planners (NITP), Mr. Toyin Ayinde has been given clear terms of reference, with a 30-day assignment to unravel what went wrong at the site.
"The panel's terms of reference also include ascertaining whether there was a compromise of the building codes by the developer, his contractor and statutory regulatory agencies.
"The panel will be finding out who the culprits are. The investigation will start from the heads of regulatory agencies.
"Be rest assured that if there are other people found wanting in the course of the investigation, everybody will face the full wrath of the law.
"The members of the panel are people of impeccable integrity and I will be signing an Executive Order to give the panel a legal backing," the statement read.
Nine Survivors, Dozen More Trapped
So far, there have been nine survivors – one female and eight male – who were rescued from the rubble, while the death toll now stands at 38.
The building – a high-rise under construction by Fourscore Homes, a Lagos-based real estate firm, located along Gerrard Road – collapsed on Monday afternoon.
While it is yet to be clear the total number of people in the building at the time of the collapse, witnesses say dozens may still be trapped.
According to the Lagos State deputy governor, Obafemi Hamzat, who visited the site on Tuesday, the 21-storey building had been cordoned off in June after it had failed to meet structural specifications.
Workers were, however, recently allowed to resume work on the high-rise.
Prior to the collapse, there were three structures on the site and although the governor did not give details about the number of floors approved for the buildings, he said the two others are both 15-storey structures.