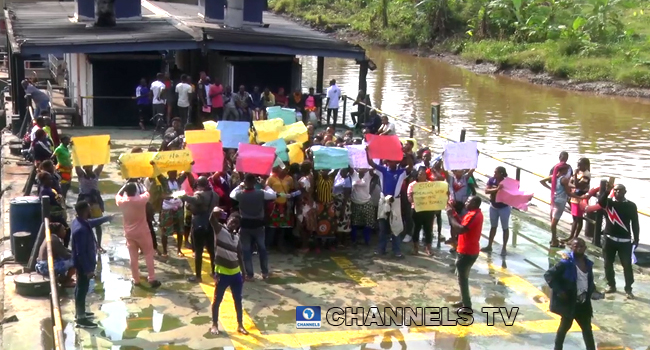 Residents of Egbemo-Angalabiri in Ekeremor Local Government Area of Bayelsa State have shut down operations at the specialty RIG 301 in protest against the operations of the international oil companies in the community.
The residents, who carried various placards had gathered on Tuesday, lamenting poor welfare and non-compliance by the oil companies with the agreement reached with the community.
They later took a 30-minute boat ride from the community jetty to the specialty RIG 301 where operations at the flow station were shut down.
In their demands, they asked the oil companies operating in their community to address them before the specialty RIG 301 operated by Shell Petroleum Development Company in the community would be reopened.
One of the protesters, Ebi Musi, said the companies have refused to yield to their demands and vowed that the residents would continue to picket the facilities until the issues were addressed.
"We are not here to fight the government or the community," he clarified. "All that we are asking is that they give us the MoU that they signed with our fathers.
"Let us know what the community will benefit from every facility that is brought to our land. We have asked that they come and address us; they refused.
"Until they address these issues, we are not leaving here. The leadership they are dealing with, their tenure has ended. We say no to bad leadership and poverty."
The Bayelsa State government has always advocated that oil companies should ensure indigenes of host communities are catered for as part of their corporate social responsibility.
In response to the demands of the residents, Governor Douye Diri said indigenes of host communities should be treated fairly.
"Oil should be a source of happiness, not a source of gloom or death as it now portends.  The oil-producing land and communities should be happy the same way Nigeria is happy by producing oil," he said.
While residents of the community insist the operations at the specialty RIG 301 will not resume until their demands are met, the governor said the government would continue to prevail on the people to be law-abiding, even in the process of making their demands.